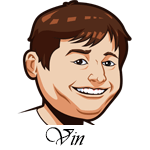 Follow @SBTSportBetting
A 2-0 record last night. That felt good after the recent string of .500 days.
We did it behind the Twins who defeated the Tigers 4-2. This one had me nervous for a bit, but the Detroit bullpen eventually crumbled as I hoped it would. Jose Berrios threw eight innigns with nine strikeouts and just three hits allowed. A great start by him and a nice win for us.
The Yankees -1.5 were our other play and they did what I've been waiting for this year, put up six runs on four homers against Bartolo Colon. I respect the hell out of the guy, but when you are facing power bats like Aaron Judge, Neil Walker and Gleyber Torres, you know what's going to happen.
[text-blocks id="137″ slug="email"]
Pittsburgh Pirates vs. Cincinnati Reds Betting Tips:
Matt Harvey has not looked good this season. He had the decent start his first time out as a Red, but both of his starts have only seen him last four innings and he got tagged for three runs his last time out. He has a 6.17 ERA/5.05 FIP on the year and the Pirates have been one of the top offenses against righties this season with a .749 OPS.
Jameson Taillon has burned us before, but he has three straight starts with 2 runs or less allowed. He draws a great match-up against the Reds who have just a .680 OPS against righties. There is risk here, but I like the Pirates a lot today.
Bet Pirates -135 at: [text-blocks id="87″ slug="bet-mlb"]
Houston Astros vs. San Francisco Giants Betting Tips:
I am loving the Astros in this match-up against the Giants' Andrew Suarez. He has a 4.88 ERA/4.48 FIP and he's allowed at least one homerun in his past four starts. The Astros have a .757 OPS against lefties and have some really dangerous right handed hitters in their lineup. I think they do well today.
Gerrit Cole is on the mound and while the Giants hit righties well, this is Cole we're talking about. A 1.75 ERA/1.95 FIP with nearly 14 strikeouts per game, he's been unhittable this season and I could see a big game from him. For those playing FanDuel, he's my top starter on the market today. For us bettors, lay the runs.
Bet Astros -1.5 (-130) at: [text-blocks id="87″ slug="bet-mlb"]
Seattle Mariners vs. Oakland Athletics Betting Tips:
Mike Leake has had some rough starts this year as evidenced by his 6.00 ERA/4.90 FIP on the year. He's allowed homers in six of his nine starts and faces an Athletics team that has a .768 OPS against righties.
Trevor Cahill doesn't fare much better. His overall stats are decent, but he's allowed three runs in each of his road games this year, allowing a homerun in all three. This is definitely carrying over from last year where he had a 1.83 ERA at home and a 7.17 ERA on the road. The Mariners have a .740 OPS against righties this year and Nelson Cruz is getting healthy.
This just feels like a great spot for an over. Both pitchers have blow out potential and both offenses are potent. Let's do it.
Bet Athletics/Mariners Over 8.5 at: [text-blocks id="87″ slug="bet-mlb"]
[text-blocks id="110″ slug="middle-ad"]
Follow @SBTSportBetting