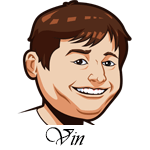 Follow @SBTSportBetting
An exciting 3-0 record last night.
We started the day with the Brewers absolutely cruising to victory. The Diamonbacks grabbed an early lead 2-1 lead, but a seven run seventh inning led by a three-run bomb from Travis Shaw. The Diamondbacks offense is in a bad way right now as they didn't record a single hit after the third inning.
Then things got crazy. It was looking like a 2-1 night with an Angels loss. The Jays had a 96% chance of winning after the Angels leadoff batter got out in the top of the ninth. Then, pure magic. Three straight walks, a Shohei Ohtani single and an Andrelton Simmons single and all the sudden it's 5-3. The Jays would add one more, but it wasn't enough and we pulled this win out of nowhere.
Pittsburgh over the Reds looked like an easy win. It was 4-1 heading into the bottom of the eighth and I thought we had this one locked up. The Reds scored three in the eight to tie behind everyone but Joey Votto and this one was going to extras. I like to think of extra innings as coinflip games and well, we called heads. Josh Harrison tripled to score an RBI and the Pirates held on. An exciting night and a much needed 3-0.
A quick programming note: I am going to be moving servers over the next couple of days so if you don't see any new posts on the website be sure to refresh the cache as I'll be at the new host. This should be much faster for us going forward. Thanks.
[text-blocks id="137″ slug="email"]
Baltimore Orioles vs. Chicago White Sox Betting Tips:
Dylan Bundy is not in a good way right now. After starting the season out strongly, he's allowed 4+ in four of his past five starts with 12 homeruns over that stretch. The White Sox are no slouches against right handed pitching with a .747 OPS. I think there is great value in the South Siders today.
Lucas Giolito is going through some growing pains as a starter, but he's not going to kill the Sox. He's allowed three or less in four of his past five starts and as long as he does that here, the Sox should win. For the season, the Orioles have a .671 OPS against righties and there is only the one bat (Manny Machado) who really scares me in this match-up.
Bet White Sox +117 at: [text-blocks id="87″ slug="bet-mlb"]
New York Mets vs. Milwaukee Brewers Betting Tips:
The Brewers are clicking right now and get Zach Davies back from injury tonight. He was really starting to click before going down as he allowed two runs or less in four of his six starts. I like him to pick up where he started today against a Mets offense that has a .728 OPS against righties. The thing we're looking for here isn't so much Davies as him keeping it down until the bullpen takes over. If we see Josh Hader, this one is over as the Mets have a .590 OPS against lefties.
The Mets OPS ranks 30th against LHP, the Brewers rank 29th. While Zack Wheeler isn't my favorite starter out there, he is in a good place here against this offense that really struggles against lefties (with a lot of injuries right now). He has a 5.32 ERA/3.97 FIP so he's due for some regression and his strikeouts numbers are decent.
I just don't see big scoring from either of these teams today and I'm going with the under. It'll probably be a close one, but that's what we have to work with today.
Bet Brewers/Mets Under 8.5 Runs at: [text-blocks id="87″ slug="bet-mlb"]
[text-blocks id="110″ slug="middle-ad"]
Follow @SBTSportBetting