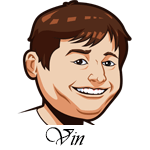 Follow @SBTSportBetting
A 1-1 record for me.
I had a major brain fart yesterday where I wrote up an entire section about the Brewers/Mets game where I wrote about Zack Wheeler starting the game and how the Brewers were bad against lefties. Two things with that: Wheeler is not left handed and he wasn't pitching. I had already placed my bet when I noticed this, but I crossed it out for the rest of you as I felt less confident in the play.
Well, it won. So, sorry for crossing it out and I hope some of you bet it anyway. Steven Matz shutdown the Brewers offense and Zach Davies had a tough time in his first game back. 5-0 Mets.
My other pick was over before it started as the Orioles exploded on Lucas Giolito early and there was no coming back. I'm less mad about that one than I am I didn't go with the Astros yesterday. A game I partially wrote up before changing my mind. Baseball!
[text-blocks id="137″ slug="email"]
San Francisco Giants vs. Chicago Cubs Betting Tips:
Cubs versus a lefty, day game at Wrigley, beautiful weather and Kyle Hendricks on the mound. I love this game. As I write this there isn't even a number on the -1.5 yet, but that doesn't matter. I am laying the runs here no matter what.
The Cubs have a .759 OPS against lefties on the season and a .779 OPS overall at home. Wrigley is a great place to hit and these guys clearly loving doing it. Derek Holland is on the mound for the Giants and he's running a nearly 50% flyball rate this year. That isn't going to work in the Windy City.
San Fran's offense is not bad against righties and Hendricks hasn't exactly been lights out this year, but I like him in this one. The offense should do a lot of the heavy lifting, he keeps the walks low and he's a groundball pitcher. A lot to like in this one.
Bet Cubs -1.5 at: [text-blocks id="87″ slug="bet-mlb"]
Los Angeles Angels vs. New York Yankees Betting Tips:
I heard somewhere that Luis Severino has been one of the most profitable pitchers in baseball this year, surprising because he's always such a huge favorite, and I am expecting him to add to that tonight. He's been absolutely amazing this year and everything that people say about guys like Kluber, Kershaw and Sale, but better. A 2.35 ERA/1.95 FIP on the year, I have no issue backing him against this tough Angels offense. He's just that good.
The main reason I feel like backing him though is the Yankees offense against a lefty. Their season OPS against LHP is .818 with a crazy 2.23 isolated slugging. His 28.7 line drive percentage and 31.7 fly ball percentage are throwing up huge red flags for me and I think the Yankees are going to hurt him today. I'm laying the runs.
Bet Yankees -1.5 (-105) at: [text-blocks id="87″ slug="bet-mlb"]
Atlanta Braves vs. Boston Red Sox Betting Tips:
I don't love the Braves in this one as the Red Sox are the top offense against right handed pitchers and Julio Teheran has had some struggles this year with a velocity dip to boot.
That said, the Braves are the top offense against lefties and I don't fully trust Eduardo Rodriguez either. I think this could be a slugfest starting early which is why I am betting the over on the first five.
Bet Braves/Red Sox Over 6 Runs First 5 Innings at: [text-blocks id="87″ slug="bet-mlb"]
[text-blocks id="110″ slug="middle-ad"]
Follow @SBTSportBetting