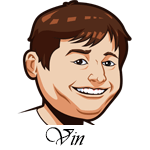 Follow @SBTSportBetting
A tough one yesterday.
I got swayed by the weather and the juicy pitchers in the Detroit/Chicago game yesterday and chose to ignore the bad offenses. That turned out to be a mistake as neither team managed to score big runs.
My only regret from yesterday is not going under on the first five innings in Cleveland/Houston instead of going for the whole game. This one looked to be a sure thing under then the Astros exploded for five runs in the seventh to blow the under. Then the Indians got six runs in the ninth to send this one to extras where they eventually won, blowing our other pick. The weather was similar here as a great hitting environment and I should've known the risks when the starters went out. You live, you learn.
Hope all the US readers are enjoying Memorial Day. That means lots of day games today as Americans enjoy the long weekend so let's get right into those.
[text-blocks id="137″ slug="email"]
New York Yankees vs. Houston Astros Betting Tips:
Domingo German is coming off back-to-back starts where he allowed six earned runs. He doesn't get any reprieve today as he faces the Houston Astros who have hit righties well all year long and are only heating up more as of late.
Justin Verlander has been absolutely killing it this year with a 1.08 ERA/2.04 FIP and just a .710 WHIP. While the Yankees offense is among the best and he's been merely mortal at Yankee Stadium, I have a hard time going against him in this match-up. He's just been too good this season and the Astros offense is too good not to take German to town.
Bet Astros -131 at: [text-blocks id="87″ slug="bet-mlb"]
Washington Nationals vs. Baltimore Orioles Betting Tips:
Really confused why this line isn't higher. The Nationals have a .754 OPS against righties on the season and are facing Alex Cobb who has posted a 7.32 ERA/5.40 FIP this year with nearly 2 homers per nine allowed. This is not a great match-up for him and it should be pretty humid out there.
Meanwhile, the Orioles have just a .707 OPS on the year and are going against Gio Gonzalez who is having a great year with a 2.38 ERA/3.06 FIP. This is a great match-up on both sides for the Nats and I'm surprised the line is so reasonable.
Bet Nationals -131 at: [text-blocks id="87″ slug="bet-mlb"]
Seattle Mariners vs. Texas Rangers Betting Tips:
There are a couple of things I like about Marco Gonzales in this start. While the Rnagers have hit lefties pretty well overall, they are carried by that high slugging percentage. Gonzales does a good job of keeping the ball on the ground (46% of balls in play) and is allowing only 0.84 HR/9. The Rangers also strike out a ton (26%) and Marco is due for some regression. He has a 4.05 ERA/3.22 FIP on the year, but he's been rocked for a .352 batting average on balls in play. That will come down. I think today will help.
The Mariners have been scorching hot of late and it's hard not to like this match-up against Doug Fister. He has a 4.22 ERA/5.35 FIP so he's due for some regression in the other way. He has low strikeouts, walks nearly three a game and his HR/9 is 1.65. He's a nice pitcher to target and while I'll be laying the runs with Seattle today.
Bet Seattle -1.5 (+125) at: [text-blocks id="87″ slug="bet-mlb"]
[text-blocks id="110″ slug="middle-ad"]
Follow @SBTSportBetting