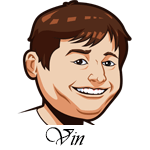 Follow @SBTSportBetting
A 2-1 record last night.
The Yankees and Astros were lingering at eight runs, but exploded late to send this thing to an easy over win for us. These offenses are just insane and are a threat to go over like that on any night. Stay tuned.
The Red Sox simply rocked the Jays last night as well with an 8-3 win. That line was way too low and we probably should've went with the more profitable runline in that one. Not trying to be greedy, but Marco Estrada is just plain hittable right now.
Our lone loss was Seattle. I have to laugh because two people in the comments of yesterday's post said they were ignoring Seattle as they had been burned before. When I went to bed they were up 4-2 and thought they were being silly. Nope. A terrible inning of walks, wild pitches and passed balls allowed them to tie it up followed by an ultra rare Edwin Diaz blow up in the ninth for the loss. Maybe you guys are right and it's time for a break on them during non-James Paxton starts.
Travel day today so there is quite a few early games. Alex Reyes returns for the Cards today and if he had a bit of track record I might go with him, but you just never know on those DL returns. There are plenty of other games to choose from though so let's get into them.
[text-blocks id="137″ slug="email"]
Toronto Blue Jays vs. Boston Red Sox Betting Tips:
Eduardo Rodriguez is not my favorite pitcher on the Sawx, but I like him quite a bit in this match-up. Toronto has just a .702 OPS against lefties on the season and he's been a better pitcher at home. Not results wise, but he has a 2.68 FIP at home compared to a 4.90 FIP on the road with his strikeouts way higher.
Then, of course, we have the awesome Red Sox offense that is tops in the league against righties right now. I've been waiting for this guy to have a bad start and I think today has to be the day. He is pitching way above his career and projection numbers and it will come back to earth. The Red Sox have a .495 slugging percentage against righties on the year. I think that will do it and I'll be laying runs here.
Bet Red Sox -1.5 (-103) at: [text-blocks id="87″ slug="bet-mlb"]
Cleveland Indians vs. Chicago White Sox Betting Tips:
The Indians have been a bit of a disappointment early this season, but that is par for the course for them. They usually heat up when the weather does and they get more and more games against their Central division opponents. Like the White Sox!
Today is a good match-up for them with Corey Kluber on the mound. He has a 2.17 ERA/3.37 FIP on the year and there is definitely room for growth with his strikeouts. The Sox have hit righties well this year, but they have a low walk rate and high strikeout rate which plays right into Kluber's strengths. I'm expecting big things from him today.
Reynaldo Lopez is the opposite as he has a low strikeout rate and high walk rate. His 2.93 ERA/4.64 FIP reeks of regression and he won't run a .218 batting average on balls in play all year. Indians have a .744 OPS against righties this year and I love them in this match-up.
Bet Indians -1.5 (-128) at: [text-blocks id="87″ slug="bet-mlb"]
Washington Nationals vs. Baltimore Orioles Betting Tips:
Some nights, you just gotta ride the aces. That's what we're doing here as Max Scherzer faces the Baltimore Orioles. Opposing batters have just a .577 OPS against him this season while the Orioles have just a .677 OPS against righties on the season. This is just too easy.
The Nationals have a .756 OPS against righties on the year. David Hess is a righty with a 4.15 ERA/5.82 FIP through three starts. Just too easy.
Bet Nationals -1.5 (-130) at: [text-blocks id="87″ slug="bet-mlb"]
Colorado Rockies vs. San Francisco Giants Betting Tips:
Unsurprisingly, the Rockies have a .795 OPS at home this season. They also have a .756 OPS against lefties on the year. They face Derek Holland who has a 4.73 ERA/4.55 FIP on the year and that FIP jumps to 5.11 on the road.
Jon Gray is one of these guys that was born and bred for Coors Field. His home/road splits are pretty close and his stats show he is in need of some regression. He has a 5.40 ERA, but a 3.16 FIP and his BABIP is at about 3.68. There is definitely some risk here, but I like him enough today and I like the Rockies offense a lot.
Going with the first five Rockies play here.
Bet Rockies -0.5 (-13) First Five Innings at: [text-blocks id="87″ slug="bet-mlb"]
A lot of games with high odds today so don't forget to check out our MLB Live Odds tracker to shop for the best line on the games.
[text-blocks id="110″ slug="middle-ad"]
Follow @SBTSportBetting