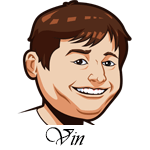 Follow @SBTSportBetting
UPDATE: I screwed up something on my end so the email didn't go out on time. To make up for it I have added a bonus pick for tonight at the bottom.
1-2 last night.
The Brewers and Reds ended up being a pretty crazy game, but Milwaukee had the better bullpen and was able to hold on to the 7-6 win.
It's was a day of regression for some of my favorite targets. First, James Shields has a decent start against the Cardinals and then Alex Cobb does fine against the Angels. Both of these games led to our losses.
The Cardinals ended up winning the game, but weren't able to cover the -1.5. We got a massive homerun from Tommy Pham early, but then Shields was able to roll as the Cardinals slump continued. I really thought Shields would be a slump buster for them, but there is a reason he is in the major leagues. Sometimes he can pitch well.
The Orioles and Angles game didn't go over as it finished with a 3-2 score. There was one point in the game when Cobb got in trouble and had Justin Upton at the plate with two outs. That was the moment I was waiting for in this game, but Upton couldn't do anything with it. In retrospect, I probably underrated Nick Tropeano in this one.
On to the next one. Let's get into today's games.
[text-blocks id="137″ slug="email"]
Kansas City Royals vs. Boston Red Sox Betting Tips:
On the season against lefties the Red Sox are hitting .256/.298/.554 which makes for a 50 wRC+, worst in the league. Are they this bad? No way, but that is what's happening right now and I can't ignore it.
They face Danny Duffy who is a starter I like who has gotten hit badly in a couple of starts this season. He's had uncharacteristic issues with the walks and I am expecting him to pitch much better as the season goes on. He's due for some positive regression and he could see it today.
He goes against Drew Pomeranz who has had a horrible start to the season with a 7.27 ERA/6.51 FIP. He's better than that as well and will see some positive regression soon as well.
Looking at these pitchers stats thus far, it's easy to see why this total is set so high. I just don't think the offenses have what it takes to hit them nor do I think they are really this bad. I took a break from unders for awhile, but this one is too good to pass up.
Bet Red Sox/Royals Under 10.5 at: [text-blocks id="87″ slug="bet-mlb"]
Colorado Rockies vs. Chicago Cubs Betting Tips:
Yu Darvish is a big time pitcher and as the weather gets better, I expect him to get better. He's coming off one of his best starts of the year as he went six innings, striking out eight and only allowing one run. Yes, he did get hit hard recently by the Rockies but that was at Coors Field. Coors Field is different than any other park and the Rockies are a far different offense on the road with only a .632 OPS.
He goes against Tyler Anderson who is solid and unspectacular. A 4.10 ERA/4.23 FIP is about who he is and has been all year. He weirdly has pitched better at home this year.
I guess we're doing this twice. Let's go under as this one is set way too high.
Bet Under 10.5 at: [text-blocks id="87″ slug="bet-mlb"]
Oakland Athletics vs. Seattle Mariners Betting Tips:
I am ready for James Paxton to start pitching like James Paxton. He's coming off a 10 strikeout, six inning start with two earned runs against the Indians. That was his second 10K performance of the season and I like him to do well at home tonight.
What I really like though is this Mariners offense against Brett Anderson. He's making his first ML start since 2016 and he's looking like he'll be back to his old self. Projections tag his a 4.24 ERA type guy and the Mariners offense should be able to get to him today. This isn't like a rookie making his first start, the book is out on him already and I think the Mariners will do well at home. Lay the runs.
Bet Mariners -1.5 at: [text-blocks id="87″ slug="bet-mlb"]
[text-blocks id="110″ slug="middle-ad"]
Los Angeles Dodgers vs. Arizona Diamondbacks Betting Tips:
In his first four starts, Hyun-Jin Ryu has been pitching out of his mind. A 2.22 ERA and 10.8 K/9 blows away his career numbers and I feel like he's due to regress a bit here. He actually has an ERA of 0.00 at home, but a 4.11 ERA on the road. This game is on the road and it's against the team that hit him hardest this year.
Zack Godley has been a solid starter for the Diamondbacks and I love this match-up as the Dodgers without Corey Seager and Justin Turner aren't very scary. Dodgers have lost four straight, Kenley Jansen has lost the strikezone and the Diamondbacks are taking control of this division. This game means something to them and I think they take it to the Dodgers today.
You can take the spread here and still make some money, but I am going big on this one.
Bet Diamondbacks -1.5 (+190) at: [text-blocks id="87″ slug="bet-mlb"]
Follow @SBTSportBetting