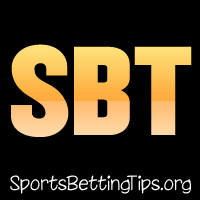 Follow @SBTSportBetting
It was a winning night with our lone NBA Tip, and we didn't even need the points.
We had Jazz +11.5 and the Jazz won outright in quite a surprise. I mean we figured it was going to be a much closer game – but we didn't expect such a great turnaround performance from the Utah Jazz. And what a freaking beast Joe Ingles was as he recorded 27 points which was a career high.
The Rockets defense just couldn't handle him and it makes for 2 very interesting games in Utah.
But that's for Friday. Today is Thursday, May 3rd. We've got two games on the board. The Raptors host the Cavaliers in Game 2 hoping to salvage something after their previous loss. The Celtics look to continue their domination as they host the 76ers and aim to go to Philly with a 2-0 lead.
Let's get to it:
Raptors vs Cavaliers Game 2 Betting Tips:
Vin: Toronto is in a bad place. The players on this team and the fans in the crowd don't believe they can beat LeBron James and if you think like that, you're right. The reactions of the crowd and the body language of the team during the fourth quarter and overtime was just sad. DeMar DeRozan and Kyle Lowry crumpled in the moment, allowing Fred Van Vleet (with an injured shooting shoulder) take the most important shots of the game. Good call.
I expect better from them today. Much like in round one when they treated game one of the playoffs like it was game seven of the Finals, I think they'll do that here. An 0-2 start is something that they won't be able to come back from and I expect big things from them… in the first half.
The Raptors can only be trusted so far and I can't trust them in the second half based on what we've seen thus far. I'm taking the Raptors -4 First half and then relaxing to watch the rest of the game. Maybe they'll be able to stop LeBron, maybe he'll have an off night. I don't count on it though. I can only count on them for the first half. The second half is when their feelings come out.
Graeme: The Raptors came into the first game with the momentum and they lost yet another freaking playoff game against LeBron James. Last time was a choke as well – you could see when they came out for overtime the Raps were just mentally beaten. Thing is too that I don't think LeBron was that good out there. He was busy thanking his teammates but in reality he had an off night and they stepped up.
Of course a lethargic LeBron James still puts up a triple double like it's nobodys business. What if LeBron is on fire tonight? I mean the Raps were rattled out there. 14 turnovers and 11 missed attempts in regulation in a freaking row. That's not good.
I do think the Raps will play better with their backs against the wall but I like LeBron to be a lot fitter and more energetic and Cavs +6.5 is the play.
76ers vs Celtics Game 2 Betting Tips:
Vin: Everyone and their mother was writing the 76ers in for the Finals and then game one happened. You forget that the Celtics were the best at stopping three pointers in the NBA and that the 76ers live and die by those threes. The loss of Kyrie Irving hurts big time, but that doesn't really effect their defense. He's not there for that and with Terry Rozier and Jayson Tatum picking up the scoring load, it's like he's not even gone.
I still think the Sixers are the more talented team, but right now they are relying on guys like Marco Belinelli and Ersan Ilyasova to score in these games and the Celtics just aren't going to allow them to beat them. I do expect some adjustments from the Sixers in this one, but the Celtics are just so damn tough at home. Playing road playoff games in Miami versus playing them in Boston is the difference between practice and a real game. Boston can rattle you.
I just can't go against the Celtics at home yet in this series. They haven't lost there in the playoffs and they are getting points. Are you kidding me? I'm taking the Celtics +4.5 in this one. I believe in Rozier.
Graeme: I don't want to be too reactive when it comes to game 1 but that Celtics line is nutso. The 76ers had a bad game for sure but the Celtics looked like they had their number and this was without Jaylen Brown.
The energy in Boston was huge. The crowd are up for it and I see more of that tonight. If they don't win they at least push it down the stretch. I mean they're a solid 4th quarter team so even if they are down they'll be able to pull it back.
Celtics +4.5 is the play.
Follow @SBTSportBetting