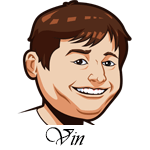 Follow @SBTSportBetting
The Dallas Stars were able to even their series against the St. Louis Blues last night with a big offensive night. Mats Zuccarello, Tyler Seguin, and Alexander Radulov each had two points. Seguin's success winning face-offs was key for Dallas and we also saw a big night for Ben Bishop. Bishop allowed only two goals, the last of these came with an empty net.
In the NBA, last night the Blazers evened the series with Denver with a big road win. The story of this game was all the second quarter as the Blazers held Denver to just 12 points. This was honestly kind of a sloppy game for both teams, with the Blazers nearly allowing a comeback as they were out rebounded by 20+ boards in the fourth. It was a true team effort for the Blazers with six players in double figures. CJ McCollum led the way with 20 points for Portland.
We move on to another big night as the Sixers and Raptors will continue their series in the NBA while the Sharks and Avalanche, and Bruins and Blue Jackets will continue their series tonight.
Notable Upcoming Bets:
NHL Betting Tips:
San Jose Sharks at Colorado Avalanche: This series has gone "one for me, one for you" thus far and I expect that to continue here. The Sharks got the win on the Colorado home ice in game three and I just can't see them dropping another home game here. They have been getting shots off in this series and I think more of them go in tonight.
NBA Betting Tips:
Toronto Raptors at Philadelphia 76ers: Game two of this series was straight out of the 90s with a really low scoring, defensively minded 94-89 game. These two teams match up so well on both ends of the floor that I can see that continuing here.
I have my issues with the Raptors who didn't see much out of their team show up, outside of Kawhi Leonard who has been amazing, in their home games. The road is naturally harder to play than home as shooting percentages often go down. That should right into what Philly wants to do and the Raps need their role players to step up. That includes Kyle Lowry.
With the Joel Embiid injury story continuing I just can't bring myself to take Philly here though. You just don't know what you are going to get there and the Raps could exploit it. This line is tight for a reason, but I really think the total is way too high. I think we see more 90s ball and another under.
Bet Philly/Toronto Under 216.5
MLB Betting Tips:
Boston Red Sox at Chicago White Sox: This one is very easy to me. David Price, don't trust him on the road here. Lucas Giolito, don't trust him at all. I think both offenses can get to these starting pitchers and hit the ball well here. They should send them to the showers early and we see an over in this game tonight.
Follow @SBTSportBetting