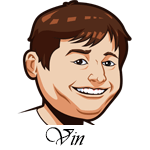 Follow @SBTSportBetting
We saw one of the craziest things in the history of sports last night. Something we've never seen before and may never see again. Okay, maybe that is overstating it a bit, but the Washington Capitals finally beat the Pittsburgh Penguins and moved on to the Eastern Conference Finals. They have been absolutely owned by the Penguins over the years and this was a huge win for them.
Speaking of absolutely owned, we also saw LeBron James and the Cleveland Cavaliers complete their sweep over the top-seed Toronto Raptors and move on to the Eastern Conference Finals. This is the 8th consecutive year in which LeBron James has played in the Eastern Conference Finals and he has a 7-0 record. We'll see if Philly or Boston can do anything about that when that series wraps up. I'd bet no.
Notable Upcoming Bets:
NBA Playoffs Betting Tips:
The Golden State Warriors and Houston Rockets both have the chance to close things out tonight, winning their series at home in five games. There is a good chance that both of them will as each team is favored by over 11 points.
That's a lot of points for a deciding game, but that just shows how much these teams have dominated. The Rockets need this win more than anything as Chris Paul and James Harden can finally shed their reputations as playoff chokers who can't make it past the second round. The Rockets -12 are a great play here as the Jazz are simply undermanned.
The Warriors and Pelicans series has been all about scoring and the Pelicans simply can't keep up. Who could? When Chef Curry is cooking, Klay is hitting corner threes and Kevin Durant is being Kevin Durant, who could possibly stop them? I like the Pelicans a lot and think they'll make a run at this one, but the Warriors are going to win a high scoring game. Give me the over 228.5.
MLB Betting Tips:
Seattle's James Paxton is coming off a 16-strikeout performance against the Oakland Athletics and tonight draws the Toronto Blue Jays. They seemingly always let down against lefties and tonight they are facing one of the best. With the struggling Marcus Stroman on the other mound, I like the Mariners to have a great day and start this series off with a win. I can't believe this line isn't higher and I'm jumping all over Seattle -117.
Philly absolutely stomped on the Giants yesterday, 11-0 and I am expecting more of the same here. For one, they have their best starter in Aaron Nola on the mound. For two, they are facing lefty Derek Holland who has been very hittable over the past few seasons. With the Phillies offense locked in, I love Philadelphia -1.5 in this one.
Corey Kluber is the reigning AL Cy Young award winner and one of the best pitchers on the planet. Wade Miley is a pitcher with an ERA over five for the past two seasons. Yeah, I like the Indians -1.5 today.
Follow @SBTSportBetting