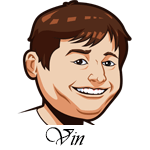 Follow @SBTSportBetting
A 2-1 record last night and we're back on track.
I loved James Paxton yesterday and holy cow was I right. Nine innings pitched, seven strikeouts, three walks and ZERO hits. That's right, we were on the right side of a no-hitter. Big congratulations to Paxton and we were happy to be on the right side of history.
The Phillies/Giants first five was a bit of a nail biter. The Phillies went up 3-1 in the third and then we had to just sit and wait for them to finish it off for two innings. They did and we grabbed the win.
The only loss of the night was a weird one. We had the Indians with Corey Kluber on the mound against the Brewers with Wade Miley. Well, Wade Miley only pitched 1/3 of an inning before leaving with an injury. That can really mess with the opposing offense who gameplan for one guy and get another. The Brewers got a first inning homerun from Travis Shaw and then a shocking solo homer from Brent Suter (the replacement pitcher) to go up 3-1. I'd like to think the Indians would've had more success against Miley here.
[text-blocks id="137″ slug="email"]
Chicago Cubs vs. Miami Marlins Betting Tips:
This is the only early game that I am looking at and I really like the Cubbies in this one. Jose Quintana had a disastrous start to the year as he struggled with his control and gave up some big runs. He's seen his strikeouts go up quite a bit in his last few starts and has done better keeping the walks down. It's going to be windy today, but I like him to keep this Marlins offense off balance with strikeouts today.
Hey, did I mention it was going to be windy today? Wei-Yin Chen is on the mound for the Marlins and I think we are going to see some major homeruns in this one from Chicago. He's allowing 2.9 HR/9 thus far this season and for his career that number is 1.3. He's capable of giving up the longball and the Cubs are going to make him do it today. I'm laying the runs.
Bet Cubs -1.5 at: [text-blocks id="87″ slug="bet-mlb"]
Houston Astros vs. Oakland Athletics Betting Tips:
James Paxton came off a huge strikeout night to throw a no-hitter. Gerrit Cole is coming off a huge strikeout night as well and we could see something special again as I love this match-up for Houston.
The Astros offense needs no introduction. Daniel Mengden has low strikeouts and a 4.30 ERA. I like the Astros to hit him early and am taking the first five line here.
Bet Astros -0.5 (-130) at: [text-blocks id="87″ slug="bet-mlb"]
Atlanta Braves vs. Tampa Bay Rays Betting Tips:
What's up with the Braves getting no respect? They are amazing. So many good young hitters and the rotation is starting to turn into something.
Julio Teheran threw a near no-hitter last time out and I like his match-up against the Rays today who have just a .708 OPS against right handed pitchers.
Meanwhile, the Braves are first in all of baseball against lefties with an .808 OPS. Ryan Yarbrough is a decent piece, but a 3.33 ERA/4.06 FIP/5.44 xFIP foretells promising things for the Braves offense today. I think Atlanta rolls here.
Bet Braves -110 at: [text-blocks id="87″ slug="bet-mlb"]
[text-blocks id="110″ slug="middle-ad"]
Follow @SBTSportBetting