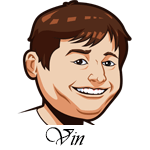 A 2-1 record for Game 1.
The Lakers made the Heat look like a college team in Game 1. This reminded me of one of those 2000s Finals where you get so into the Nets with Jason Kidd and then they face the Lakers and it's just embarrassing.
I have my feelings about Dwight Howard, but the type of bully ball that he allows them to play is really tough. They are bigger than everyone and they are using that size effectively.
We took the loss on the Heat +4.5, but got the win on the under as well as a Tyler Herro prop of under 24.5 points at 888 Sport. The line makes a huge jump here for Game 2 as the Lakers are now a -9 favorite. That's pretty crazy to see after these playoffs where the Nuggets just kept beating everyone and they never budged.
A big part of that has to be the loss of Goran Dragic for the Heat. He's been such a big part of what they've done in these playoffs and he was right there with Butler as the Heat's top scorer. His loss creates a huge hole for this team as a point guard like him is just not something you can replace.
This should put even more pressure on Tyler Herro who had a really tough Game 1 with a -35 point differential. Everyone was bad for the Heat in Game 1, but he had the worst +/- of them all.
Miami will have a chance to make things right tonight. Will they? Let's find out.
Best Odds for NBA:
Los Angeles Lakers vs. Miami Heat Betting Tips:
One game is all it's taking me to flip on this series. That's how good the Lakers looked and, honestly, this Dragic injury is just terrible for Miami.
The Heat are going to have a really hard time filling those Dragic minutes. Derrick Jones Jr. and Solomon Hill are the kind of players that the Lakers can and will exploit. Injuries stink, but this one especially so because it's taken this series from one that I thought might be surprisingly competitive to one that I believe is already over.
The Lakers dominated the rebounding game last time out and I don't think that was a fluke. They are outworking everyone in these playoffs and it's time we paid them their respects.
The under came in last time and I see no way to go against it here. This is the Finals and if you are ever going to lock in on defense for 48 minutes, now is the time. The Lakers did a great job at keeping the Heat's three-point shooting down and with Dragic out, those are going to be even harder to come by.
Stick with the under.
Player Prop: I made this using the Props Builder at Bovada.
Anthony Davis had a huge game last time out with 34 points and 9 rebounds in 38 minutes. That last number is the thing that really has me locked into this bet. Even in a blow-out, he's going to play major minutes. This is his first real shot at an NBA Championship and I don't think he's going to let it slip away. He's going to be on the floor, he's going to score, and he's going to win.
Bet Anthony Davis to have 30+ points and Lakers to win (-105)
Best Sportsbook To Bet NBA:
Register an Account.
All betting odds and props will now be viewable under the event listing.
You can deposit to BetOnline via over 20 different options such as credit card.