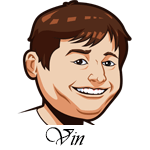 A 2-1 start to our playoffs tips that was oh so close to a 3-0.
The close game was the over on the Mavericks and Clippers. The total was 229 and it looked like we were going to cruise to victory at halftime with a score of 69-66. However, the Clippers defense held Dallas to just 13 points in the third quarter. Even with that, we still have a chance to get this one over until the final seconds of the game, but it fell short at 228 points. Luka Doncic had an incredible 42 points on the losing end. That is the most points scored by a player playing in his first playoff game in NBA history. Kawhi Leonard lead the way for the Clippers with 29 points, 12 rebounds, and six assists.
The Raptors were probably my favorite pick of the day and they just absolutely dominated the Nets. They won 134-110 and this one was never in question. Fred VanVleet lead the way with 30 points for the Raptors. Reminder: He went undrafted.
We also got the win with the Celtics over the Sixers. I said in the write-up that this one might be close for three quarters and then the Celtics will take over and that's pretty much what happened here. The Celtics dominated the fourth quarter 34-22 and grabbed the 109-101 win. Joel Embiid was very quiet down the stretch of the game while Jayson Tatum dominated with 32 points and 13 rebounds.
In the early game, the Nuggets got the win over the Jazz. This one took awhile for the Nuggets to get going as they had a huge third quarter to force overtime and then won the OT period 20-10. Luka Doncic had an impressive game, but Donovan Mitchell had an all-timer in a losing effort with 57 points, nine rebounds, and seven assists. Jamal Murray lead the way for the winning team with 36 points and 9 rebounds.
A great start to the playoffs. Let's keep it going today.
Best Odds for NBA:
Miami Heat vs. Indiana Pacers Betting Tips:
The Heat are going to rock this series, they just are. The Pacers may have had a better regular season defense, but they do not have a better defense. When they have guys like Andre Iguodala and Jimmy Butler on the floor, locked into playoff mode, they are going to be one of the toughest defenses in the Eastern Conference and I think they start showing it here.
A lot will be built up about Butler/T.J. Warren here, but it's unlikely to be a competitive match-up. These guys just don't like each other, that doesn't mean the Pacers can compete with the Heat.
Oklahoma City Thunder vs. Houston Rockets Betting Tips:
The Rockets traded Chris Paul for Russell Westbrook because he couldn't stay healthy and now the Rockets will be without Westbrook for this series. Sounds about right.
The whole Rockets plan requires playing small with elite players, but without Westbrook that very thin depth they have has gotten even thinner. They have no size and the Thunder have a ton of it. This seems on paper like it will be a long series thanks to the superhuman abilities of James Harden, but I just don't see it. I think this series is going to be short and I think the Thunder are going to win it.
Thunder are 8-2 in spread bets in their last 10 games against the Rockets and 7-3 overall. I think they match-up perfectly for what the Rockets try to do and they are going to make them pay for it.
Portland Trail Blazers vs. Los Angeles Lakers Betting Tips:
I might just be a mark for Dame Lillard, but I really think the Blazers are going to make a series out of this. Maybe that is winning one game, maybe it's winning two, but they are going to make it much more difficult than the Lakers had envisioned it would be when the Grizzlies were the 8th seed.
The thing I am looking at here is that the Lakers were just 6-6 during the regular season when their opponent made 15 threes in a game. The Blazers have gotten here by doing exactly that. They really started bombing them in the bubble. McCollum can hit one, Carmelo has been hitting them, and we all know what Damian Lillard can do with them.
I see this one playing out similarly to last night's Clippers/Mavericks game. It's going to be high scoring and it might end up closer than you think. Let's take the points.
Best Sportsbook To Bet NBA:
Register an Account.
All betting odds and props will now be viewable under the event listing.
You can deposit to BetOnline via over 20 different options such as credit card.