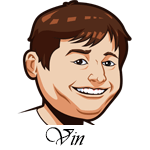 Follow @SBTSportBetting
A 2-0 record over the weekend.
The Lakers closed out their series with their biggest win of the series, 119-96. This was definitely a LeBron game as he had 29 points, 11 rebounds, and 7 assists in just 31 minutes. They once again went to their smaller lineup with Markieff Morris at center and Houston had no real answer for them.
The thing that has impressed me the most about the Lakers in this run is the way that they adjust to their opponents and take away the one thing that makes their offense run. Not the thing that they do well, but the thing that holds it all together. For the Blazers series that was Damian Lillard, basically. For this past series, it was James Harden creating offense and putting more opportunities in Westbrook's hands. They are going to be very dangerous going forward and they are my favorite to come out of the West.
We also got the win with the Nuggets as this team did it again. Another incredible performance when the chups were down and another huge second half comeback. The Nuggets outscored LA 64-35 in the second half to win 111-98 and I am once again kicking myself for taking the points instead of the moneyline. Whatever happens tonight, Denver has a bright future.
That big game seven takes place tonight. We also have game one of the Eastern Conference Finals with the Heat taking on the Celtics. It's going to be a great night.
Best Odds for NBA:
Miami Heat vs. Boston Celtics Betting Tips:
This series is very close in the betting odds with the Celtics being a small favorite at -130 and the Heat at +110.
I like Miami heading in, but I also wonder if that is some bias at work. They eliminated the team with the NBA MVP and Defensive Player of the Year, and they did it kind of easily. A lot of the playoffs is match-ups and that was a terrible match-up for the Bucks, plus all the bubble issues Milwaukee had, but are they really that good?
I say yes. Bam Adebayo is having an absolute coming out party and there is no one on the Boston roster that I think can match-up with him. Jimmy Butler is a superstar that can lock down on defense and they have Tyler Herro who can absolutely shoot the lights out. Are they young? Yes. Inexperienced? Yes. Both those things are true, but this team has been one of the very best since entering the bubble and should continue to impress.
This is probably going to be a long series with many experts picking it to go seven games. For tonight, I think it's going to end how the series will end – with a Miami win. They've had more time off to prepare for this match-up and their coaching staff has shown that they can find your weakness and exploit it.
Denver Nuggets vs. Los Angeles Clippers Betting Tips:
The game seven under has been a lock throughout these playoffs and the sportsbooks have adjusted, setting this total at just 207.5. Game two had a total of 224 while game six had a total of 214, so this is a pretty big drop.
That said, I wouldn't be surprised to see it going under once again and will be betting that once again. The Clippers/Jazz series, which featured some absolutely insane offense from both teams, had a game seven total of 158. They could set this line at 180 and I'd probably still go under. That's just the way that game 7s go in the playoffs.
Bet Nuggets/Clippers Under 207.5
The Nuggets have a chance to come back from 3-1 deficits in back-to-back series. The Clippers were the pick of many experts to win the championship this season so the pressure is absolutely on them. If they lose tonight, the stories are going to be more about how they lost than how the Nuggets won. That's the weight of expectations.
I don't want to have too much recency bias with this one because the Nuggets have won two straight, but there have been a lot of things that have stuck out over those games. Nikola Jokic has absolutely feasted in this series and him against Montrezl Harrell has probably cost Harrell millions. The Clippers are minus-34 in with Jokic and Harrell on the floor in this series.
The Clippers have also done a bad job of isolating bad defenders. Paul George and Kawhi Leonard in the pick-and-roll are just switching their defenders, who are probably the two best defenders on the floor. What good does that do? They should be hunting the bad defenders like LeBron does. This team is not a good play-making team and that is the kind of flaw that gets ramped up in a game seven.
I don't have the conviction to take the Nuggets moneyline here, but in a low scoring game – 7.5 points is a ton. This should be a low scoring game and the Nuggets have shown that they are not worth going against. They may not be the better team, but they are coming into this one in a much better place as the pressure is on the favorite.
Best Sportsbook To Bet NBA:
Register an Account.
All betting odds and props will now be viewable under the event listing.
You can deposit to BetOnline via over 20 different options such as credit card.
Follow @SBTSportBetting