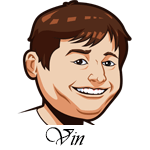 Follow @SBTSportBetting
A 3-0 record last night!
The game seven unders continue to pay off as the Celtics/Raptors had a total of 204.5 and it came in easily with a 92-87 win. The only real fear here was an overtime taking it away from us like it did in game six, but the Celtics were able to pull away late. Jayson Tatum had a real star performance with 29 points, 12 rebounds, and 7 assists in 44 minutes.
The Celtics will now meet the Heat in the Eastern Conference Finals, just as everyone expected. The Celtics are a -135 favorite heading into the series. You can beat Miami at +115.
We also took the win with the Nuggets stealing a win from the Clippers. I thought they had a chance to win this one outright, but played it safe with the +8. They ended up winning 111-105 and I was kicking myself for not going after that +313 moneyline. Still, it was good to lock in that one and we get more basketball so all is well.
The under on this one was 216.5 and that half of a point really mattered as the total landed at 216. I'll take that every time and twice on Sunday.
Tonight we have the Lakers looking to close out the Rockets in their series. While tomorrow afternoon we have Clippers/Nuggets. Since that game is so early I'll be posting the tips here as well.
Best Odds for NBA:
Los Angeles Lakers vs. Houston Rockets Betting Tips:
The Lakers have outplayed the Rockets at their own game and proven that they belong. It turns out having the best player in the universe really makes a difference in a series like this.
LA went small in game four and looked amazing. They should go back to that here to close out the series. The thing about the Rockets and their roster, especially without Danuel House, is they have no adjustments left to make. The guys they have is what they have and what they have is not good enough to beat the Lakers. I'm sorry I didn't see that earlier.
There is always a chance that James Harden goes off for a 50+ point game to keep the team in the series, but I just really don't see that happening. He's never shown that he's that type of playoff performer in the past and I think it's far more likely that this Rockets team is looking forward to joining House outside of the bubble.
Denver Nuggets vs. Los Angeles Clippers Betting Tips:
I am going to miss this Nuggets team when they are gone. They are a weird team that still has a ways to go, but you can never really count them out and they've made for some of the best moments of these playoffs. The Clippers really dominated them in the first half and a lot of teams would've packed it in after that, but the Nuggets fought and came back to not only win but win big. That's impressive.
The Clippers deserve some of the blame for that as this team is just missing something. Kawhi is a killer and he can carry this team, but there are times when it looks like the rest of the squad is on a different page than him. That's going to be interesting watching if they face the Lakers in the next round as the Lakers have much more team chemistry.
For this one, I have to stick with the Nuggets. The point spread is once again high and, facing elimination, I once again expect them to really dig down and make things difficult for the Clips.
Best Sportsbook To Bet NBA:
Register an Account.
All betting odds and props will now be viewable under the event listing.
You can deposit to BetOnline via over 20 different options such as credit card.
Follow @SBTSportBetting