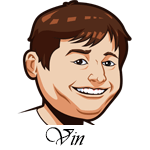 Follow @SBTSportBetting
A 2-0 record last night.
The Celtics came back with a huge 117-106 win to make the series 2-1 with the Heat. The Celtics came out hot in the first half as they have throughout this series with a 63-40 first half score, but unlike past games they held on with a strong second half.
Boston saw the return of Gordon Hayward to the lineup and that had to have a boost for them. While his stat line is not that impressive, he did manage to play 30 minutes and that is 30 minutes that one of their lesser stars didn't play. That matters a lot when it comes to the playoffs. He is a shooting threat and accounting for that threat always has a trickle down effect.
We also got the win with the over that came in easily. Perhaps most impressive about this game is how much both teams did it without the three. The Celtics shot just 9/26 from deep while the Heat shot 12/44. The Celtics kept the pace high on the pressure on. A great win that shows why so many thought this thing was going seven.
Tonight we are switching back to the Lakers/Nuggets as Denver looks to avoid falling into a 2-0 hole.
Best Odds for NBA:
Los Angeles Lakers vs. Denver Nuggets Betting Tips:
The story of game one for the Nuggets was fouls. Nikola Jokic and Jamal Murray both had foul trouble and if those two aren't on the court, the Nuggets have very little chance in this series. The minutes without them on the floor are minutes they are likely to get slaughtered.
While minutes were down for both of the Nuggets stars, they did perform very well in their time on the court. Both players were able to get their shot and both shot over 50% from the field. 53 minutes combined is not going to get it done though.
Where the Lakers really shone was in their transition offense. This team made the decision to get out and run, even on Denver makes, and it really made a difference for their offense. This was definitely something they saw in film that can be exposed on Denver so it'll be up to the Nuggets to make the adjustment here tonight.
That foul discrepancy in game one is unlikely to repeat itself here. The Nuggets are likely to adjust and the refs are likely to feel some pressure to what some thought was unfair officiating. Right or wrong, that's just how this league works sometimes.
One game can tell you a lot in a seven game series, but I want to see a high 30s/low 40s minutes total from Murray/Jokic before I write this series off. I think we get it tonight and we see a close game.
Thanks to the foul trouble of the Nuggets' stars and the Lakers blow out win in game one, everyone should be pretty fresh for this one. Nobody on LA played more than 32 minutes in game one and I already mentioned Jokic and Murray's minutes total. Thanks to that freshness and the lack of true defense we saw in game one, I feel I have no choice but to go with the over here again.
Best Sportsbook To Bet NBA:
Register an Account.
All betting odds and props will now be viewable under the event listing.
You can deposit to BetOnline via over 20 different options such as credit card.
Follow @SBTSportBetting