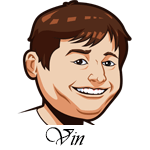 A 1-1 record last night.
The Heat finally played a complete game and got the the win over the Celtics to take a 3-1 lead in the Eastern Conference Finals. The Celtics had outplayed them in the first half of every game in this series, but last night the Heat were able to take control and hold onto it. They got an absolutely monster game from Tyler Herro who finished with 37 points.
Miami found success by shorting their rotation to just seven players and I don't see them changing that going forward. Miami had another tough shooting night from three, but it didn't matter. They are one game away from the Finals.
We got the win with the over thanks to a huge fourth quarter from both teams. The total was 212 and 68 points in the fourth quarter pushed us to the over. We took the loss betting the Celtics first half line.
This series is tied 441-441 through four games with the Celtics leading for more total minutes of the series, but the Heat are up 3-1.
---
Listen to our WWE Clash of Champions Betting Tips Podcast. Nice quick listen only 11 minutes long and 4 big betting tips to take advantage of.
Powered by RedCircle
---
Tonight, we see a pivotal game four in the Nuggets/Lakers series. The pressure has to be on LA here despite their 2-1 series lead. The Nuggets dominated the last game and they were a last-second three away from stealing game two. Do not sleep on the Nuggets.
Best Odds for NBA:
Denver Nuggets vs. Los Angeles Lakers Betting Tips:
Tonight should be pretty interesting. The Lakers have complained to the NBA about the lack of free throws for LeBron James and we've seen that sort of thing play out on the court before. I would expect LeBron to have a big game here regardless, but this might help push it up a level.
Of course, there is still no answer for Nikola Jokic. He's been absolutely ruthless in the playoffs and has gone right at Anthony Davis. The Dwight Howard experiment didn't work and I doubt we see much more of him in this series. Jokic has adapted to everything that the Lakers have thrown at him and there just might not be an answer to this guy outside of foul trouble. He's such a problem because the Lakers best lineups sacrifice rebounding and Jokic can clean up in that area.
We took the under in game three, but it ended up going over. That said, I think the idea was right. The Lakers offense has started to struggle in the half court and we saw a ton of points scored in the paint. The Lakers are not a three-point heavy team and I can see this game resembling a 90s center battle. A big first half cost us the under last time, I think we are going to see a tighter game here.
Bet Nuggets/Lakers Under 214.5
As good as the Nuggets have been to us and as much as I like them, I can't shake the feeling that this is a Lakers win. The Lebron James-Anthony Davis two-man game has been underutilized, James and Davis have run only 26 pick-and-rolls together in three games, and that is something that the Lakers should be going to more.
With the Davis experiment over, it's time for this team to go small like they did in the last round with Davis at center. That really puts Jokic in a tough position where he needs to defend Davis and any switch on defense puts him at a disadvantage. They will sacrifice some rebounding and defense, but it is their best path to victory.
All that said, this will not be an easy path to victory. It makes for a tighter game and I think the Lakers will really need to grind out the win if they are going to be a negative on rebounding and three point shooting. So as much as I think the Lakers will win outright, I have to take the points again.
Best Sportsbook To Bet NBA:
Register an Account.
All betting odds and props will now be viewable under the event listing.
You can deposit to BetOnline via over 20 different options such as credit card.