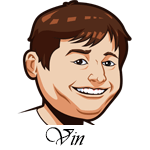 The Celtics looked like they were cooked in the first half with sloppy play and turnovers throughout. Then the third quarter happened. They outscored the Heat 41-25 in the third and never looked back. This series is now 3-2.
We took the loss with the Heat +3.5 as the Celtics just ran away with things. We did get the win over the over as this one went way over the 213 total with a 121-108 final score.
This game was all about the Jays as Jaylen Brown finished with 28 points and 8 rebounds while Jayson Tatum finished with 31 points, 10 rebounds, and six assists. The Celtics were not messing around in this one as they mostly went to the six-man rotation of Tatum, Brown, Theis, Smart, Walker, and Hayward.
After the game, Bam Adebayo took responsibility for the loss saying "I played like s—t. Bottom line. I put that game on me. Not my teammates' fault. Not my coaches' fault. Me."
Bam was -15 +/- in this one, but the team also had three other starters at -13. The Celtics were just not going to be denied here. That said, an even more motivated Bam could be scary in game six.
We move back to the Nuggets/Lakers series. I've said all along that I thought this series was going at least six games so you can guess where I am leaning tonight. The Nuggets have comeback from 3-1 deficits and back-to-back series and deserve our respect here. This series has been extremely close over the past three games and tonight should be a good one.
Best Odds for NBA:
Denver Nuggets vs. Los Angeles Lakers Betting Tips:
Michael Malone, Nuggets coach, has said this feels no different than the last two series where they were down 3-1. He even went so far as to say that the Clippers were favored ahead of the Lakers which is just fantastic.
It definitely feels like the calls have not been going Denver's ways throughout and the shot bounces have been far luckier for the Lakers than the Nuggets. Just take a look at Caldwell-Pope's three-point shooting numbers if you don't believe me.
The big thing to me about the last game is Jokic's fouls. The Lakers definitely got a huge bump from that as everything else pointed to a loss. They had a 120 defensive rating in this game. They only scored 98.8 points per 100 possessions in halfcourt offense.
LeBron James covered Jamal Murray in the fourth quarter which definitely helped stop the big comeback. When locked in, LeBron can be a shutdown defender and he absolutely showed that here. However, that did take away from his offensive output as he was only 1-for-4 in the fourth. If the Nuggets can find some offense elsewhere, that could be a huge boon to them.
We've seen the Eastern Conference Finals teams shorten their rotation and I can see Denver going with that move here. I can also see them unleashing Michael Porter Jr. here as well. He's a negative on defense, but he can really change the game offensively for the Nuggets.
This is all reading like pro-Nuggets propaganda and that's because it is. They are going to win tonight. Let's go big, moneyline.
Best Sportsbook To Bet NBA:
Register an Account.
All betting odds and props will now be viewable under the event listing.
You can deposit to BetOnline via over 20 different options such as credit card.