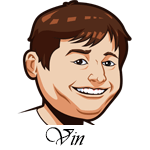 An 0-1 record last night.
Damn the Rockets. I can't believe I fell for them again as the Lakers beat them at their own game. The Lakers seemed stubborn as they continued to play their big men across the first few games of this series, but last night they went fully small and made the Rockets look silly.
The Danuel House situation definitely messed with the team and it seems to be in their heads right now. There is a lot of weirdness with that as he's in denial and the woman in question didn't name him. There is going to be a lot of complaining about how all this went down from Rockets fans, but whether he played or not wouldn't have mattered. The Lakers just dominated last night. Lesson learned.
Two big games tonight as the Clippers look to close out their series with the Nuggets and then the huge game seven between the Raptors/Celtics. Let's get into it.
Best Odds for NBA:
Denver Nuggets vs. Los Angeles Clippers Betting Tips:
I am going back to the well on the Nuggets. They are facing elimination so I am expecting some good basketball from them and a great effort. There are adjustments that can be made, but ultimately I think this is a game that will feature a low score and a tight score. The Clippers are the better team and I don't think there's any doubt about that, but the Nuggets just came back from a 3-1 deficit in the last round and I wouldn't be shocked if they took this game tonight.
The series is a perfect 4-0 on the under thus far and there is no reason to think that won't continue here. The series is being played at a very slow pace thus far. That was the Nuggets style of play throughout the season and the Clippers have shown that they can win by playing like that. As things get tight with elimination on the line, I can only expect for things to get ugly here.
Bet Clippers/Nuggets Under 216.5
Boston Celtics vs. Toronto Raptors Betting Tips:
Game six was one of the best NBA games we've seen this season, but tonight could end being a rough one. Most of the key players played 50+ minutes in the last game and now they have to comeback for a game seven two days later. We have seen game sevens go under the posted total throughout the playoffs thus far and I don't think this will be an exception.
These teams are tired and they are going to be working hard on both ends of the floor. The series has a low pace throughout and I can see it getting even slower here.
I am leaning towards Boston as the outright winner, but after the past week I can't imagine counting out the Raptors. They are defending their title with honor and are likely to leave it all on the floor tonight. Bet the under and just hope this one doesn't go to overtime.
Bet Celtics/Raptors Under 204.5
Best Sportsbook To Bet NBA:
Register an Account.
All betting odds and props will now be viewable under the event listing.
You can deposit to BetOnline via over 20 different options such as credit card.