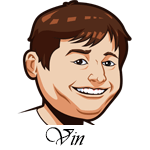 A 1-2 record last night.
The Phillies started the night off right with a 5-inning win for us. They were +105 and took the first five innings 6-3. The Phillies also proved me right that the 5-inning bet was the right one as they allowed four runs over the final two innings to blow the game.
I swear every time I try to brag a little bit about the record that we have a losing night. Last night that was thanks to the Dodgers/Diamondbacks game that just went sideways for us. We took the over on the first five innings and they fell 1.5 runs short. This was the kind of thing that drove me absolutely insane as Madison Bumgarner allowed seven hits and two walks over those first five innings, but only allowed two runs. This became a theme for Dodgers as Riley Smith in relief allowed five walks and two hits, but no runs allowed.
We're going big today with four picks so let's get into it.
Best Odds for MLB:
All tips based on the starting pitchers listed. Tips should be considered void if any pitching changes are made unless otherwise noted.
New York Mets at Toronto Blue Jays Betting Tips:
Mets: Jacob deGrom 1.69 ERA/2.03 FIP
Blue Jays: Chase Anderson 4.94 ERA/4.91 FIP
Whenever you get a chance to bet on Jacob deGrom, you take it. He's one of the best pitchers in all of baseball and I like his match-up here. The Blue Jays are a pretty good offense, but the Mets are better and they have the better pitcher today. Sometimes it's just that simple.
The Mets bullpen does give me pause here, but deGrom has gone seven innings in two of his past four starts and six innings in six of his eight starts this season. That leaves very little for the bullpen to do and they should be able to get it done.
Los Angeles Angels at Colorado Rockies Betting Tips:
Angels: Griffin Canning 4.54 ERA/5.30 FIP
Rockies: German Marquez 4.58 ERA/3.69 FIP
The Rockies have the better pitcher here, but the offensive disparity is off the charts. The Angels are a very good offense against right handed pitchers with a 120 wRC+. They have been very hot over the past two weeks as well and I think they are going to pile on some runs here.
Canning isn't that great, but neither is the Rockies offense. They have a 74 wRC+ against righties on the season and just a 70 wRC+ over the past two weeks. I think it's weird that the Rockies are favored here and I will happily bet the Angels.
Chicago Cubs at Milwaukee Brewers Betting Tips:
Cubs: Jon Lester 5.80 ERA/5.61 FIP
Brewers: Brandon Woodruff 3.91 ERA/3.59 FIP
Not a lot of explanation needed here as Jon Lester stinks. The Brewers offense has been disappointing all season, but they are really good against lefties with a 121 wRC+. Lester has no strikeouts and has just been getting pounded lately. THe Brewers should continue that.
The Cubs are an average offense against righties and Woodruff has been very solid. Taking the first five innings here because I am seeing the Brewers scoring early.
Bet Brewers -0.5 (-135) First 5 Innings
Seattle Mariners at Arizona Diamondbacks Betting Tips:
Mariners: Yusei Kikuchi 5.23 ERA/2.79 FIP
Diamondbacks: Caleb Smith 4.64 ERA/4.87 FIP (Career)
Caleb Smith has only made one start this year and it was a short one. I am not expecting much out of him here.
The Mariners have gotten some great performances out of their starters of late and Kikuchi is included in that. He's had some bad luck with a low BABIP and the Diamondbacks offense is one that can bring that back down to earth. Arizona has just a 60 wRC+ against lefties. That's bad.
I still don't trust the Mariners bullpen so going F5 here.
Bet Mariners -120 (First 5 Innings)
Best Sportsbook To Bet MLB:
Register an Account.
All betting odds and props will now be viewable under the event listing.
You can deposit to BetOnline via over 20 different options such as credit card.