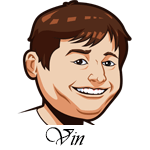 Follow @SBTSportBetting


[Get Exclusive Tips on our Patreon, Ad-Free
]
An 0-2 record last night.
Only our second losing night of the playoffs and I blame Marcus Smart. The Raptors were rolling and then Marcus Smart happened. The Raptors had a small lead and then he just took over. At one point he hit three-pointers in 72 seconds and really swung the momentum to the side of Boston. This hurt especially because he was 1-for-7 before that. Just a fourth quarter collapse by the Raps as they lost the final frame 32-21.
I said in the write-up of the Jazz/Nuggets that Game 7s often get dirty and you don't see the level of play you do in the rest of the series. I thought that the Jazz/Nuggets would be an exception to this rule and still go over, but I was very, very wrong. Both teams really focused on the guards so both Jamal Murray and Donovan Mitchell went under their projected point totals, but they still ended up setting a record for most points scored in a series. I am learning that lesson about game sevens tonight.
Best Odds for NBA:
Miami Heat vs. Milwaukee Bucks Betting Tips:
The Bucks are in trouble with this series if things go like they did in game one. Eric Bledsoe is listed as questionable again and the Miami Heat have a great time to strike here. The Bucks can make some adjustments here, but I would not expect that. Coach Budenholzer is very slow to make changes and you have to think he's going to continue with what he knows.
He's not wrong to do that either because Giannis Antetokounmpo will not have a game that bad again. He will score 30 points tonight, he'll probably have more rebounds, and I think he's going to have a big time game here. (Hitting some free throws would help, just saying.) I also am not sure I see Jimmy Butler repeating his 40-point performance.
The Bucks outshot the Heat from three in game one and Miami didn't really do a good job of denying them. That is where the Bucks clean up and I think they dominate that area again tonight. The Bucks will have to step up the rebounding a bit, but I think that all plays in the Giannis rebound game. Giannis has had bad game ones before and he's comeback strong.
Oklahoma City Thunder vs. Houston Rockets Betting Tips:
This series has been all over the place. I went into it thinking that the Thunder would take it, but the Rockets quickly made me look dumb for thinking that. Then the Thunder stormed back and won some games that we didn't think they would, the Rockets stars shrank in the moment, and the Thunder now have a game seven.
Game 7s get dirty and ugly. The shooting becomes forced, the intensity ramps up, and the pace slows. I think all of that really favors the Thunder. If we're talking about forced shots, that should scare Rockets fans with Russell Westbrook.
Chris Paul has shown up huge in these games over the years and I think that happens here as well. This is personal for him.
The main bet here should be the under. I think it's going to be ugly and low scoring just like yesterday's Nuggets/Jazz game ended up.
Bet Thunder/Rockets Under 215.5
As I mentioned I think the style of this game will really favor the Thunder and I trust Paul to show up in a game seven a lot more than I do the Rockets' stars. A lower scoring game, a closer game really favors the Thunder because they can dominate the rebounding with their size. Steven Adams could be key here. The Rockets are getting way too many points for how close this should be and their high chance of winning. Take the points.
Best Sportsbook To Bet NBA:
Register an Account.
All betting odds and props will now be viewable under the event listing.
You can deposit to BetOnline via over 20 different options such as credit card.
Follow @SBTSportBetting