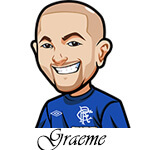 Follow @SBTSportBetting
First of all a big, big thank you to everyone who socially shared the tips last week to see them. I know it's a pain in the arse and I truly appreciate it. I won't do that every week but it will be something that will be a bit more common.
Second sorry I couldn't deliver a winner. Dustin Johnson did the best he could but it just wasn't to be.
Golf betting is quite something. I mentioned that I've been going through all my past public tips and putting them into a spreadsheet for full tracking – I'm up to 2018 now and should be done within the month. However it's funny going back and looking at my records.
For example if we go by todays unit amounts that I bet, in 2015 I profited $32,662.10. With todays sizes, $250 was the most common bet so if we go by that as 1u, then it was a 130.65u profit year.
Great numbers right? Except my win-loss record for that year was 45 wins and 206 losses.
The other years are also similar. It's something to remember with golf betting – how often there will be dry spells and how many losses etc. It's always amusing to see. It's generally a bunch of losses followed by a big win.
Tour Championship 2020 Betting Tips:
So this is that weird tournament where we have different starting strokes. Here they are:
-10: Dustin Johnson
-8: Jon Rahm
-7: Justin Thomas
-6: Webb Simpson
-5: Collin Morikawa
-4: Berger, English, DeChambeau, Im, Matsuyama
-3: Todd, Rory, Reed, Xander, Munoz
-2: Griffin, Scheffler, Niemann, Hatton, Finau
-1: Kisner, Ancer, Palmer, Na, Leishman
0: Smith, Hovland, Hughes, Champ, Horschel
From a viewing perspective I think this is pretty exciting to watch. Seeing Thomas talk all last year about what he would do as -10 and then losing the lead like so fast was quite neat.
From a betting perspective I find it extremely difficult. You just have to really consider it as in-play betting; basically as if there was a round prior to this and this is where they all ended up.
As for this course – it basically comes down to who plays the best in all the base categories. Want to win? You need to be one of the longest drivers with great accuracy, have a high GIR & Putts per GIR. Oh and also be great at scrambling.
Basically – be really good.
With the setup for this one I am just going to be doing a few small bets. Hope you understand.
$62.50 on Webb Simpson to win at 11/1. For all the metrics above, Webb balances out as the best player on average. Starting 4 strokes back I think he has a solid chance. Of course DJ and Rahm are playing out of their minds right now. He also performs well on Bermudagrass. Taking last week off means he should be fresh here. He's in form and has performed well on this course in the past. If Rahm & DJ weren't performing so well I'd go $125 on him honestly.
$62.50 on Xander Schauffele E/W at 25/1. This is my only other pick. E/W for this tournament is the Top 4. Xander always performs exceptionally well here. It was between him or Berger and I decided to go for Xander. Look at last year and how well he performed at -4 and managed to get to 2nd place. Just seems to thrive on this course.
I'm not doing tips for SBT this week but if I was I'd probably throw Berger in there as the "SBT Exclusive" Bet.
Andalucia Masters Betting Tips:
$62.50 on Wade Ormsby at 40/1 E/W. I liked seeing how he performed last week after a long lay off and he generally performs well in this area. He's struggled here the last couple of times which is why it's a smaller bet but based on what it takes on this course he should be able to contend.
That's it for that one. There are a LOT of possibilities but nothing that ticks enough boxes for me. Even Ormsby I am a bit concerned about due to potential fatigue.
Follow @SBTSportBetting