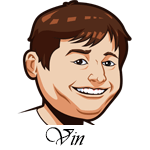 Follow @SBTSportBetting


[Get Exclusive Tips on our Patreon, Ad-Free
]
An 0-2 record last night.
We took the Raptors -2 and they won 104-103 on an amazing shot by OG Anunoby. The Raptors really went for it in this one as they only played an eight man rotation, and Matt Thomas only played six of those minutes. It was all about the starters, Serge Ibaka and Norman Powell. The Raptors did a much better job defending the three here, but they continued to struggle from deep.
Kyle Lowry is now 1-for-19 from three while Fred VanVleet is 8-for-35. Plus Pascal Siakam is shooting just 35% from the field in this series thus far. The Raps were lucky to get this one, but if they don't start shooting better this is going to be a short series.
I liked the Nuggets to hang in there tonight, but they just got absolutely thrashed by the Clippers, 120-97. The Clippers looked like the team that is favored by so many to win the championship as they were lights out on defense. The big news was return of Patrick Beverley who absolutely changed things for the Clips. They were 38-13 with him this season compared to 11-10 without him and the difference was clear from the start.
Honestly though, I might just go back to this one next time out though as the Nuggets looked far more fatigued from their seven game series than you'd have expected them to be. I still think we can see some of the Murray/Jokic magic that we saw last round.
Two games tonight including the start of the Rockets/Lakers. Let's get into it.
Best Odds for NBA:
Milwaukee Bucks vs. Miami Heat Betting Tips:
Miami has outplayed the Bucks in this series. The ending of the last game was absolutely stupid, but the right team won in the end. The Bucks have had a hard time with Miami's defense as the coaching staff really had them scouted and knows how to make adjustments. Coach Budenholzer of the Bucks can be very stubborn to make adjustments, but he's going to need to if they are going to get back into this series.
We should see some of those tonight though. The Bucks could definitely stand to up the minutes on Giannis and Middleton, much like the Raptors have been doing. They should also try playing more lineups with Giannis as the center surrounded by shooters. They have to try something because what has been happening thus far has not been working. Miami is up 2-0 and looking like a real threat to move on to the next round.
I feel like a fool going for the Bucks here again, but I just can't believe that things will go down like this and they'll go down 3-0. Giannis is too good and this team is bound to have some shooting luck at some point.
Houston Rockets vs. Los Angeles Lakers Betting Tips:
I'm going to come right out and say it: I think the Rockets can beat the Lakers in this series.
The Lakers offense is not very impressive behind the big two and the Rockets can go much deeper. It's not going to be easy, but many of the same vulnerabilities that we saw last round against the Blazers should pop up here. Only James Harden is surrounded by a much better supporting cast and defense than Lillard and the Blazers were.
There is a chance we see the same type of fatigue with Houston that we saw with Denver, but I don't find that likely. The Rockets have been through these wars and they know how to prepare for this type of thing. They have veteran playoff experience that the Nuggets just don't have and they should have the stamina to compete here.
LeBron is the man and he can absolutely take this game, but it feels like the Rockets are going to come out swinging with some things that the Lakers simply aren't prepared for after a layoff.
Best Sportsbook To Bet NBA:
Register an Account.
All betting odds and props will now be viewable under the event listing.
You can deposit to BetOnline via over 20 different options such as credit card.
Follow @SBTSportBetting