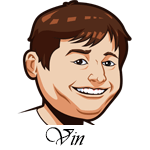 Follow @SBTSportBetting
A 1-1 record last night.
The Miami Heat eliminated the Milwaukee Bucks from playoff contention last night. The Bucks were playing without Giannis and came out firing in the first quarter, but the Heat came back strong and won every quarter the rest of the way. This was a true team effort from the Heat with six players scoring 12 or more points. I think this is what is going to make them so dangerous in the next round as neither Boston or Toronto can match their depth.
Giannis gave an interview after the game about coming back next year and trying again. I think that is the smart thing to do as this team has the personnel to win, they just need to not be so stingy with adjustments. Winning in the playoffs requires throwing a variety of looks at your opponent and Coach Bud was not willing to do that. A lot of hackier websites are writing their "Giannis should demand a trade" posts, but that's just because they don't know how to function as a website if someone decides to stay put. Don't listen to them.
We took the Rockets and the points last night, and this one was in play until the Lakers just locked it down in the fourth quarter. Every quarter was decided by three points or less before the Lakers went off in the fourth, 30-20. The Rockets lost by ten again and it's just frustrating when you are that close, but that far away. This Anthony Davis game was exactly why the Lakers traded for him. He helped the Lakers to dominant the rebounding game and was just able to bully the smaller Rockets lineup.
It is looking like the Rockets are really going to regret letting game two slip away. The Lakers are now in control of this series.
Two very intriguing games tonight with the Celtics looking to close out their series against the Raps and the Nuggets trying to even things up with the Clippers.
Best Odds for NBA:
Toronto Raptors vs. Boston Celtics Betting Tips:
Every game of this series has gone under the posted total and there is no reason to think that is going to stop now. These two teams play a real ugly brand of basketball against each other and the shooting percentages have been low throughout. In a game six, with the Raptors season on the line, I don't think that is going to change.
Bet Raptors/Celtics Under 209.5
I'm also thinking that the Raptors are going to force a game seven here. Everything that could go wrong went wrong in game five and I just can't see that repeating here. This team has defended their title strong and I can't see them going out with a whimper like this. They are going to leave it out there tonight and I think they can get the win.
Los Angeles Clippers vs. Denver Nuggets Betting Tips:
The Clippers are up in this series 2-1, but they honestly haven't impressed me much during the last two games. Kawhi Leonard feels like the only one that really cares at times and the Nuggets have done a great job defending him over the past two games.
The Nuggets have shown they have no quit throughout the playoffs and I think they are once again going to keep this one close.
Best Sportsbook To Bet NBA:
Register an Account.
All betting odds and props will now be viewable under the event listing.
You can deposit to BetOnline via over 20 different options such as credit card.
Follow @SBTSportBetting