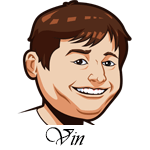 Tony Gutierrez/Associated Press
A 3-0 record last night.
The Blue Jays eked out a 2-1 win against the Yankees last night. Taijuan Walker threw four shutout innings before the bullpen took us the rest of the way. The Jays scored two runs off of Happ and that was enough for us to get the win last night.
We also had the Cubs and took the win there, 3-0. The wind definitely kept the offense down here with both teams only combining for nine hits. Alec Mills had one of his best starts of the year with six shutout innings.
The Giants and Mariners had a total of 8.5 and the Giants won 6-5 for the easy over. This game was a bit surprising as most of the scoring came early as both teams combined for just one run over the final five innings.
The system is absolutely rocking lately with another winning night. Today is a weird one with a ton of games falling in that moneyline/runline grey area where they are kind of pricey for a moneyline, but not quite worth it to lay the runs. (White Sox and Cubs being my two favorites.) We still have a couple games that the system likes though so let's keep it going for Wednesday.
Best Odds for MLB:
All tips based on the starting pitchers listed. Tips should be considered void if any pitching changes are made unless otherwise noted.
New York Yankees at Toronto Blue Jays Betting Tips:
Yankees: Deivi Garcia 3.38 ERA/2.97 FIP
Blue Jays: Tanner Roark 5.74 ERA/6.32 FIP
A small sample on Garcia, but I like what we have seen thus far. The strikeouts are for real and he's done a good job keeping his walks down. The Jays offense is tough, but I see the Yankees having a better day here.
That's because Roark stinks. His walk rate and HR/9 rate are astronomical and, even with all their injuries, the Yankees can still mash against righties.
I'm a bit distrustful of the Yankees bullpen right now though so I am sticking with the 5-inning line. The Yankees are slipping out of the playoff picture right now and are in need of a win. I think they get it.
Bet Yankees -135 (First 5 Innings)
Colorado Rockies at San Diego Padres Betting Tips:
Rockies: Antonio Senzatela 3.33 ERA/4.31 FIP
Padres: Zach Davies 2.23 ERA/3.31 FIP
Senzatela has no strikeout rate to speak of and he faces one of the most dangerous offenses in the game here. He's been cruising off a high 80.5% left on base percentage and a below average .272 BABIP which I can see going against him here. The Padres are just ridiculous right now and I don't like any pitcher against them, especially a guy with Senzatela's profile.
I don't get this Zach Davies thing, but he has been absolutely dealing this season. The Rockies offense has just a 75 wRC+ against right handed pitching on the season and are just no good when they aren't at home.
The Padres are the most fun team in baseball right now and a real contender. I have no issue laying the runs.
Best Sportsbook To Bet MLB:
Register an Account.
All betting odds and props will now be viewable under the event listing.
You can deposit to BetOnline via over 20 different options such as credit card.