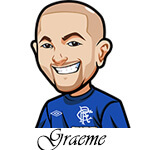 Follow @SBTSportBetting


[Get Exclusive Tips on our Patreon, Ad-Free
]
The NFL 2021-2022 season is finally here!
We were treated to a hell of a game to kickstart things, with the Cowboys vs Bucs game being an absolute banger. It went down to the wire and we got some good old-fashioned Brady time.
Feels like the first time we saw that was back with black and white TVs and having to adjust the antenna to get perfect quality.
I personally had the Cowboys +8.5 in that one so that was a good start for me to the season.

I had a great season last year as I went 63-41 and I am hoping for more this year.
I will do betting tips on Saturday for the early games, then Sunday for the later games.
Let's get to it:
NFL Betting Tips Week 1: Early Games
Titans vs Cardinals Betting Tips:
Titans are 3 point favourites. I don't muck about with futures much but I did back them to win the division. I like them a lot this season. But not here. Murray should feast on this defense. Then you have Tannehill with Brown & Jones? I gotta go with Over 52.5 here. The Butler retirement helps that a lot.
Texans vs Jaguars Betting Tips:
Look there's not much to say here. Even though it's the Jags, Texans are that "bet against until told otherwise" team. Depends on the point spread of course. Lawrence is great, J-Rob should have no problem with this rushing D. Jags -3.
Washington vs Chargers Betting Tips:
A tight point spread with Chargers 1 point underdogs. Practically a pickem. Are you ready for some FITZMAGIC?
I am pretty hyped for Herbert. But not today. Washington was a mean ass defense last year. I actually really like Washington. Great defense, great running game with Gibson and McKissic. I am going to take Under 44.5 points in this game.
Bengals vs Vikings Betting Tips:
I don't mind Cousins as a QB, and with Trae Waynes out he could have a good little game. Plus you know Dalvin freaking Cook and two solid wide receivers. Burrow didn't sound entirely confident pre-season either. I'm a bit concerned about the Vikings secondary. That is the big factor here to me – but I think they have what it takes. Vikings -3.

Panthers vs Jets Betting Tips:
Panthers are 4 point favourites here. I'm going to back Panthers -4. Here's my reasoning: Darnold didn't exactly blossom at the Jets. The theory is being at the Panthers, things will be much better for him due to just being a better well-run operation. He has the all star running back. He has two fantastic receivers.
I feel like if you ran this game in Week 10, the point spread would be more than a touchdown. I'm happy to run the risk on Darnold & co here.
Falcons vs Eagles Betting Tips:
Eagles are 3.5 point underdogs here. Falcons of course find new ways to collapse in games and I am hoping for more this season purely for entertainment.
Falcons without Julio. Asking a lot of Ridley. I expect he goes up against Slay this week which won't be too bad. No bet in this one but I lean Eagles.
Bills vs Steelers Betting Tips:
I'm a Patriots fan so I naturally hate the Bills. But goddamn am I jealous of all my friends who are Bills fans this season. Bills are 6.5 point favourites here. They were a tough team to bet on last year though as I remember a couple of games where they had a big lead then blew it and lost – or blew it, went behind and just backdoored the win (but not the spread).
Big Ben will have a bad day at the office I expect. They just lost some OL starters too. I went back and forth on this one but at the end of the day I feel it's only this close based on rep. Bills -6.5 for me.
Colts vs Seahawks Betting Tips:
The Colts are 3 point underdogs at home. Really curious to see what happens with the Seahawks with Waldron as the OC. Might take some adjustments. If you're looking for player props for this one I think Michael Pittman could be a surprise in this one.
It's funny as when Wilson throws less, Seahawks win more. Yet they are meant to be emphasizing quicker and more throws for him. Could be a disaster.
But with Metcalf and Lockett the boys to catch the passes, I'm good with Seahawks -3.
Lions vs 49ers Betting Tips:
The 49ers were absolutely ravaged with injury last season. They're all pretty much healthy, and they should flex their muscle and remind everyone who they are here. 49ers -7.5. Lions just don't seem to have the offense to keep up with them here and we know how that 9ers defense is.

Follow @SBTSportBetting