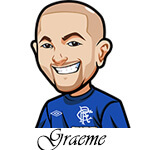 Follow @SBTSportBetting
Welcome to Week 12 of the 17 week NFL regular season.
We're at that point where games are critical and theoretically it can make the sports betting easier. A combination of knowing what teams have a purpose and all the raw statistical data from the previous 11 weeks really comes into play.
That worked out this week already as Vin went an awesome 3-0 on Thanksgiving. He went with Lions/Bears Under 43 and Bears won 23-16. He also had Cowboys -7 and they covered that by a point. Finally he took Saints -13 with the confidence they would win by at least 2 touchdowns and they did with a 31-17 victory.
I meanwhile bet an absolute shitload on the Bears -3 when I saw the line 5 minutes before the game. I was in a rush and hadn't paid attention to injury news. Just about hit the roof when I saw Trubisky was out. I could have cashed out the bet but I kept it in just for the sweat and it was a fun one.
For Sunday, November 25th we've got two massive favourites with the LA Chargers -14 over the Cardinals and the Ravens -11.5 over the Raiders. Also the Patriots -10 over the Jets so a lot of lopsided lines this week.
Highest scoring game of the week is expected to be the 49ers vs the Bucs at 54pts.
Let's get to the tips:
NFL Week 12 Betting Tips:
Patriots -10: Seems a decent enough line. Yeah there's some injury concerns over Brady but I'm sure he'll play. Even if he doesn't we've seen previously what happens with the Pats when Brady is out. They've had that bye week after that embarassing loss to the Titans, and I think if there is any game where the Pats come out hard and fast and go to run up the score it's this one. The New York Jets are also resembling a completely different military vehicle at this stage of the season.
Browns Over 23.5 Points: If you look at the Browns history, over 23.5 points doesn't seem great. In their last 6 games they only went over that once against the falcons. But the Browns offense is ticking and Mayfield is looking good. Bengals are brutal against the pass. On top of that I like the Browns RBs to have big games. Browns offense should put up the points here.
Seahawks +3: This is a tight one but I like the team with the points. Wilson is performing well lately and the Panthers defense allows 260+ yards per game and average more than 2 TDs against them. Newton had a big game last week but I think the Seahawks will be able to contain him.
Giants +5: Risky backing Eli at any time but I have to think they can keep this one close. Eagles offense were absolutely brutal last time out. Eagles have no secondary and so OBJ and Shephard you think will run riot. And of course they always have Barkley.
Follow @SBTSportBetting