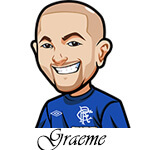 Follow @SBTSportBetting
Hi guys,
I'm a bit more on the ball this week so I'll be able to break up the NFL tips into three different posts which is nice.
We'll cover half the early games in this post, then the other half in tomorrows post and then on Sunday morning I'll cover all the late games.
First of all a brief celebration – not only was the TNF game actually pretty fun but we won there with Broncos +1. It was nice to see. Brings my record to 24-14. Was weird seeing so many people on the Jets.
Right let's get to it:
NFL Week 4 2020 – Early Game Betting Tips:
Cardinals at Panthers Betting Tips:
Cardinals are 3 point favourites. They are 2-1 to start the season. Panthers are 1-2 but got that big win over the Chargers. Kyler Murray and his ability to rush is big. Panthers also can't get the pressure going. I think we see a good game for him.
I do think Panthers will hang with them and get a couple TDs. Mike Davis running wasn't too shabby and should be a better game for him. Of course the big concern is DeAndre Hopkins who if he does play will likely be a decoy. I do think the Cards will be able to exploit the running game but I am a bit concerned on their pass game.
I'd like to take the Cards here but this Hopkins injury has me concerned. No play.
Ravens at Washington Betting Tips:
Big point spread here at 14pts. Ravens looking to bounce back after that dismal effort against the Chiefs. Short turnaround though. Washington are 1-2 with the win over the Eagles.
Washington missing Chase Young which will be good news for the Ravens. Man I hate to say it but with the disjointed play of the Ravens, and the quick turnaround, I can't back anything in this game. I expect they'll cover but after watching that offense last week – I can't back them.
Browns at Cowboys Betting Tips:
Browns are 4.5 point underdogs here. They're 2-1 to start the season with wins over Bengals and Washington. They seem to be a general average team. Cowboys are that team that on paper are awesome but yet again don't seem to be able to bring it.
Honestly I hate betting the Cowboys. They either do the business or disappoint you hard. There's no inbetween.
Cowboys passing defense is weak so Baker should be throwing a lot and it will be a big test for him. Ditto for the Cowboys. The Browns interestingly running defense wise look good but I think Zeke has a bounce back game.
I'm prepared for them to disappoint me again but Cowboys -4.5.
Colts at Bears Betting Tips:
Colts are 3 point favourites. They're 2-1 to start the season and blew out the Jets like I said they would. Bears are….3-0….to start the season. I can't believe it either.
Man if Rivers is able to do his thing against the Bears defense then great. But that defense looks legit to me. Foles was pretty damn sloppy against the Falcons and I don't have much faith in them. Colts also have a stingy defense.
I'm not loving it but I'll do 1u on Bears +3 in what should be a tight game.
Jaguars at Bengals Betting Tips:
The Jaguars are 2.5 point underdogs. They had two good games against the Colts and Titans then that stinker against the Dolphins. They will be rested though. Bengals are yet to win this season with that tie game against the Eagles.
For the Jags – being without Linder and Chark didn't help. Linder is out again this week which isn't good. Chark meanwhile has had limited practice but is expected to play.
Bengals actually aren't the worst when it comes to passing defence. Jags are bad at it and Burrow might have a good day and log his first win. Bengals have a tough potential injury if Mackensie Alexander is out. However without Chark I think the Jags may struggle. This should be a fast paced game and I sort of lean towards the over.
I think a lot of this depends on Chark. I'm concerned he will be a decoy but I will do a conditional play – If Chark starts, take Over 49.5pts. If Chark doesn't or it's looking likely he's a decoy, go with Bengals -2.5. When I do my Sunday morning post I'll try and mention what one I advise. 1u on that.
Where To Bet the NFL and get a Sick Deposit Bonus
Register an Account.
All betting odds and props will now be viewable under the event listing.
You can deposit to BetOnline via over 20 different options such as credit card.
Follow @SBTSportBetting