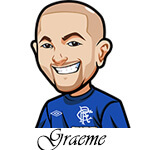 Follow @SBTSportBetting
Another win in the bag last night with the NFL Betting Tips.
That one brings my record to 32-17 for the season or 65.3%.
Not too bloody shabby.
We had the Bucs/Bears game to go under. It started off pretty hot but luckily fizzled out after a big first half.
The under was 44.5 and it came in fairly easy in the end with a 39 tally.
This week is a bit disjointed due to COVID line changes.
We currently have 7 games kicking off at 1pm EST and a few lines are off the board right now so I will do this schedule for tips:
Today: Cover 3 of the 1pm EST games.
Saturday: Cover the remaining 1pm EST games.
Sunday: Cover the late games and SNF.
Monday: Cover both MNF games if they take place.
Tuesday: Cover Bills vs Titans.
I don't mind – 5 days straight of writing about NFL? Hell yeah.
Let's get to it.
NFL Betting Tips Week 5 Part 1:
Panthers at Falcons:
Panthers are 1.5 point underdogs here. They are 2-2 on the season. After losing to the Raiders and Bucs they have beaten the Chargers and Cardinals.
Falcons are 0-4 to start the season after that 30-16 loss to the Packers that I called correctly.
Their defense is brutal and it should be good news for Bridgewater. Falcons might be without Julio again. Big loss for them. I like the way the Panthers are using D.J. Moore right now. He could have a big game here.
This is a weird game and this is a borderline play but 1u on Panthers +1.5 if Julio is out.
Jaguars at Texans:
Jags are 1-3. After a good start to the season they have fizzled out somewhat last week and lost 33-25 to the Bengals.
Texans are 0-4 to start the season. Not the biggest surprise considering their off season moves. Still rack up the points but are getting dominated.
Texans are 5 point favourites here as the sportsbooks expect them to get their first win of the season.
Minshew had a good game last week especially considering the Bengals stats going into that. A lot of teams don't throw against the Texans but I expect the Jags will which will make things interesting.
Chark is such a difference maker for the jags offense. Great WR. He should have a good game. Jags I believe both Henderson and hayden are out which would be tough. I don't love it but I'll go with 1u on Texans -5. Jags will be competitive but below a touchdown I'll go with it.
Rams at Washington:
The Rams come into this on a 3-1 record with their lone loss that insane game against the Bills. They have beaten the Cowboys, Eagles and Giants.
Washington have a 1-3 record. They also beat the Eagles but lost to the Cardinals, Browns and Ravens.
Rams are touchdown favourites here with a 7 point line and an over/under of 46.5.
Washington aren't half bad I feel. However I am surprised Haskins is benched after a solid performance last week.
I'm not a big fan of the whole 7 points here. However the Washington QB situation seems like a mistake by them. However they have to know better than me; they say it is a short term deal so they obviously have faith in Allen in this spot.
I'm going to skip this one. I do feel with the QB situation the Rams will take it but you have to think they are making this change for a reason.
Follow @SBTSportBetting