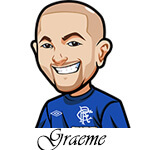 Follow @SBTSportBetting


[Get Exclusive Tips on our Patreon, Ad-Free
]
So for those unaware, I've been running the site BetNHL.ca with my brother in law Scott since 2012.
We've been providing daily betting tips for the NHL on there for many years.
We take turns writing the betting tips up, but each day we get together for a call to go over everything.
I like to make quick thoughts on the games before the call. Then when we talk, I present them. If Scott agrees with a pick we explore it more. If he doesn't, we play devil advocate against each other etc.
On the days where I won't be writing betting tips over there, I thought I would start presenting my quick thoughts on the games here and came up with the very clever name of "quick hits". Then if all my thoughts are wrong you can add an S to the beginning of hits! I'm writing them up each day anyway – so might as well share them.
I won't do this every day. Tomorrow only two games so I will not bother then. More just for the days with a lot of games.
Please note these may contrast with tips at BetNHL.ca. These are my early impressions when I go through the games at a quick glance:

NHL Bets Quick Thoughts: October 19th, 2021
Sabres vs Canucks: Had the Sabres on Saturday and they delivered although it was tight. Canucks haven't been anything great so far. At 2.25, I see slight value on Buffalo here.
Lightning vs Panthers: Tampa just seem unbettable at the moment. The over is tempting in this one.
Devils vs Kraken: Crazy that the Devils have only one game under their belt, while the Kraken have four. It's asking a lot for the Kraken to bounce back here and will be interesting seeing if they will. I think Devils are being served them up on a plate here. At 1.68 I can't back that though and I don't have the faith to back Devils in regulation.
Canadiens vs Sharks: Absolutely stunned the Habs are such big favourites here. Not that the Sharks are great or anything but Habs are a struggling team right now. Looks like a value bet on the Sharks at 2.35 odds for me.
Capitals vs Avalanche: Nothing here. An easily skippable game.
Bet Horse Racing - +£21,565.98 profit on £25/pt staking. Click for more details.
(Advertisement but we have tested it out and have been quite impressed with it)
Penguins vs Dallas Stars: I've no idea why the Penguins are 1.76 and above. Have the bookies not paid attention to this season? Pens are a team that have let me down in spots like this in the past but I'd be happy to back them here. Possibly in regulation although this early in the season I'll probably chicken out and do incl OT.
Red Wings vs Blue Jackets: Odds are a coinflip and that seems correct to me.
Blackhawks vs Islanders: Both teams dumpster fires to start the season. At coinflip odds an easy pass for me.
Wild vs Jets: Jets are better than their results suggest but too hard to back them right now until they get the results going. Wild home ice opener – easy pass.
Predators vs Kings: Preds strong favourites here as the bookies feel they finally win one at home. Kings have actually been pretty decent this season so far. 2.10 odds isn't too bad. If it was 2.20 I'd play it with confidence but 2.10 seems a tad risky.
Oilers vs Ducks: Bookies writing Ducks off based on pre-season assessments. Stolarz didn't do too bad against the Wild. Oilers haven't really impressed me yet honestly. I hate it but I think Ducks is an +EV play here.
Support Us
: We now have a Patreon where we provide some tips exclusively to people who support us on there.
Join them!
Follow @SBTSportBetting