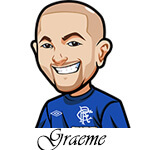 Follow @SBTSportBetting
It's Friday, April 19th and of course we have lots of NHL and NBA playoff action taking place tonight.
The NHL is where the most nailbiting action is. The Boston Bruins host the Toronto Maple Leafs in a key game 5 in Boston. Those two have been swapping wins and you have to wonder if the Bruins are able to stop that tonight.
Calgary host the Colorado Avalanche and their playoff lives are literally on the line. After an excellent Game 1, they have been thumped by the Avs in three consecutive games. It's been some disgusting performances from the Flames, and the Avs look to pour that final drop of water on them tonight.
The NBA has three intriguing games.
The Celtics go on the road up 2-0, hoping to continue that against a Pacers team who can play good at home. The Blazers go on the road to Oklahoma City looking sensational. Finally the Raptors hope to take it to the Magic in Orlando and bring in the momentum from that Game 2 victory.
NBA Playoff Bets – April 19th, 2019:
Have to go with Raptors -4. I see the line at 5 at some places as well now but I'd still back that one. It seems a crazy line in my opinion – it's like the sportsbooks are taking Game 1 seriously, as opposed to it just being typical Raps playoff stuff.
I'm not sure if the Raptors do the Gentlemans Sweep. I do think they will but I just feel good that the Raptors come here tonight and get another dominant victory.
I think Pacers -3 is a nice play. Pacers know what they have to do now. They've had two games to see the way the Celtics play and their defence. Being at home they should adjust and should be more up for this one.
Vin likes the under 203.5. He says the offensive performances are brutal, and he can't see that turning around. That he feels the Celtics don't need to push quite simply because they've got Irving.
I didn't have a bet on the Blazers vs Thunders game but Vin loves the Blazers +8. Feels the line is too high and unless Paul George is healthy – which he isn't – the Thunder will not be able to change things up this series. Either way it should be an interesting one.
NHL Playoff Bets – April 19th, 2019:
I don't have a play in the Bruins vs Leafs game. It's very tempting to take either side. I'd lean towards Leafs if you want to bet due to the odds but it's just not good enough for me. I have concerns we see an aggressive performance from the Bruins like in Game 2. In that one, Leafs looked scared and that puts me off.
However I'm all in on Flames -1.5. Not that the last 3 games of the series back that up at all. However it's do or die for the Flames, and I just have that feeling they come out big here. Mike Smith has carried this team the last couple of games to no avail. Time for these players to pull it out and put in the performance of a lifetime.
Follow @SBTSportBetting