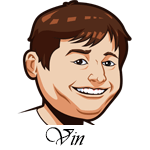 Follow @SBTSportBetting
The NBA season continues to roll on and the story of the young season is the Boston Celtics. They lost Gordon Hayward on the second game of the season and they haven't lost since. They saw Kyrie Irving have his face fractured and they still managed to beat Toronto at home on Sunday. This team is good, really good.
There is a solid chance that Kyrie Irving returns tonight with the face mask. He wore that mask before when he was with Cleveland and he was like Michael Myers from Halloween with that thing on, a straight killer. If he returns wearing that thing, I'm not sure when the Celtics might lose again.
NBA Betting Tips:
We are going to roll with the Celtics here tonight against Brooklyn. I believe that Kyrie will be back and even if he is not, the Celtics have done a great job this season of getting the job done against lower level teams. Jaylen Brown and Jayson Tatum have leveled up and this is a dangerous team. They've typically won by 10+ points against lower level, non-playoff teams and I think that's exactly what they'll do tonight. Celtics -7 is the play here.
San Antonio is similar in that manner as they are 8-5 without Kawhi Leonard this year, but they always get it done against the lower level squads. They face Dallas tonight who they always own, especially when they are one of the worst teams in the NBA. The Spurs have the 7th best defensive rating in the NBA right now, playing without the Defensive Player of the Year. They play the third worst defensive team in the NBA and you know how this is going to end. Spurs -6.5 is the winner here.
College Football Betting Tips:
We made money two weeks ago going under on an Akron game as they played another team from Ohio. Guess what we're doing this week?
Akron is somehow 5-5, but they are a pretty sad team overall. They give up over 120 yards more per game than they gain, they've been outscored by their opponents and they just aren't that great. For some reason, they keep going under though. They are 1-9 on overs this year and that should continue tonight.
They play Ohio University who they always seem to have low scoring games against. Last year the score of the game was 9-3. They year before that was 14-12. I just don't see a 50+ point game and that's why we're going under 51.5 in the Ohio University versus Akron game.
The other game tonight has us going the other way for a very simple reason: Kent State has allowed 44 or more in three straight games. Throw in that Central Michigan has scored 35 or more in three straight and this game is gasoline meeting dumpster fire. This is going to be a blow out and the total will go over 47.5 points.
In fact, I have such a low opinion of Akron in this one that I am also tipping Central Michigan -17.5. This is going to be a blowout in which CMU will nearly hit the over by themselves.
Follow @SBTSportBetting