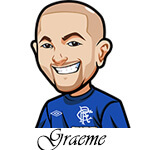 Follow @SBTSportBetting
Good couple of days in the UEFA Nations League.
We had France vs Netherlands to be a draw at 0.5u play. Honestly I really didn't think Holland could get much out of it so I was very surprised to see them pull off the 2-0 victory and props to them for that.
We made it a profitable day with Cyprus vs Bulgaria Both Teams to Score thankfully. That one ended 1-1.
Yesterday we had a 0.5u play on Serbia -1 that lost when they won 2-1. However we won bets with a 2u on Azerbaijan and a 1u play on the MIGHTY SCOTLAND.
Scotland absolutely battered Albania and you might as well just rename us the Euro 2020 Champions based on that performance.
For Sunday, November 18th we'll continue to follow the UEFA Nations League.
England vs Croatia Betting Tips:
This is an absolutely fascinating game. Both teams are sitting joint 2nd and England have a better goal difference than Croatia. If it's a draw, Spain go through. If either team wins, they go through and the other is eliminated.
One of those games that gets you thoroughly excited.
They played previously and it was a 0-0 draw. Englands highlight of the tournament so far was a 3-2 victory over the Spanish side and they'll hope that doesn't go to waste.
Croatia are still finding their way after the likes of Mandzukic retired.
I'll be honest I came into this one ready to tip Croatia or Draw. I felt everything surrounding Wayne Rooneys last game might take England off their game. But in saying that I'm just not overly impressed with Croatia while I think England have to be fired up after that victory over Spain. It's the type of thing that should give them momentum.
So begrudingly I'm going to switch from my initial thoughts and while Croatia try and find their footing in the post-Mandzukic era, will go with a small bet on the Auld Enemy.
(Odds on this page are correct as of 2018/11/17 5:07:01 PM EST but are subject to change)

Belgium vs Switzerland Betting Tips:
Belgium top Group 2 with 3 wins out of 3. Switzerland quite simply need to win on home soil to qualify thanks to a 6-0 thrashing of Iceland.
This should be an interestine one as the Swiss are a solid team at home and if you followed my World Cup tips we made a good amount of money on the Swiss. I am a fan of them.
Belgium are just a whole other tier above them though in quality. This was one where initially I thought of the draw but I think Belgium will win it in style. They're just such a higher quality side even without De Bruyne and Fellaini.
Despite that they may tighten up and play for the draw so we'll do a small bet.
(Odds on this page are correct as of 2018/11/17 5:07:01 PM EST but are subject to change)
Follow @SBTSportBetting