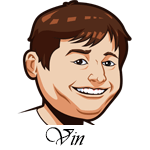 Follow @SBTSportBetting
The Rockets dropped the game to the Wizards last night and I just don't know what to think about that team right now. Honestly, I don't know what to think about a lot of the Western Conference right now.
James Harden was absolutely magical with 54 points and just two rebounds shy of a triple double while Eric Gordon helped out a ton with 36 points. The issue was that this team ran out of gas. The Wizards started defending better and the Rockets didn't have a good answer outside of "do something, Harden".
That team might be the most in need of a trade of any team in the West right now. They don't have the screeners or the defenders or the shooters. It's just not a good situation right now and it's a shame to see a team that came so close to beating the Warriors last season being this far away from beating them this season.
Notable Upcoming Bets:
College Basketball Betting Tips:
Just one game sticking out to me here and it's the ACC-Big Ten match-up once again. The #13 Virginia Tech head to Penn State to take on the Nittany Lions. Penn State won the NIT last year, but they aren't quite what they were. They lost Tony Carr, who turned pro, and Mike Watkins has been out with an injury to start the year.
The Hokies were a better team last season and they are a better team this season. This is a tough road match-up, but I like the Hokies to grab the win here behind the scoring of Nickeil Alexander-Walker, Justin Robinson, and Ahmed Hill.
NBA Betting Tips:
The Toronto Raptors have been just about the best team in the NBA this season. With all the drama in Golden State, whatever is happening in Boston and Houston, and the growing pains of Milwaukee; Toronto has been the best team in this early season.
They get a great match-up tonight against a Grizzlies team that doesn't make a ton of sense. They recently lost to the Knicks at home and also lost to Phoenix, they beat Milwaukee on the road and Utah at home.
I want to take this Grizzlies team getting five points, but I just can't bring myself to do it. I do think the total is set far too low though and will be going over here.
Bet Grizzlies/Raptors Over 207.5
NHL Betting Tips:
The Blackhawks are in flux right now. They fired their head coach and now they just traded their #2 center to the Phoenix Coyotes. They got back a couple of former high draft picks in Brendan Perlini and Dylan Strome with the belief that they can turn them into key players. That's a big risk to take, but one a team with the cap situation of the Blackhawks needs to take.
That said, this thing is going to take time. They play the Golden Knights at home tonight and Vegas is one of the hotter teams in the league right now, having won three straight. I am hopeful for the Hawks future, the NHL is better when they are good, but I don't like them tonight at all. Knights are going to roll.
Follow @SBTSportBetting