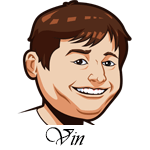 A 1-1 record last night.
The Rays had a huge 5-run sixth inning to take the win and 3-0 series lead over the Astros last night. The Astros once again had a ton of hits, but the outstanding defense of the Rays really shone here. For the second game in a row, Jose Altuve had a costly error that ultimately lost the game for the Astros. While he's not been that bad, he's giving me flashbacks to Brooks Conrad in 2010.
It was definitely surprising to see the Braves take a 2-0 lead, but they almost blew this one. They had a 7-0 lead then the Doddgers score three in the seventh and four in the ninth. Luckily for them, the Braves added one in the top of the 9th that allowed them to hold on. Tony Gonsolin, starting for the injured Kershaw, had a rough day with five runs allowed on just three hits. The series switches to the Braves batting last today.
Best Odds for MLB:
All tips based on the starting pitchers listed. Tips should be considered void if any pitching changes are made unless otherwise noted. Occasionally the "follower" will be listed as we are betting on who will pitch the bulk of the innings.
Atlanta Braves vs. Los Angeles Dodgers Betting Tips:
Dodgers: Julio Urias 3.27 ERA/3.72 FIP
Braves: Kyle Wright 5.21 ERA/5.90 FIP
(Game will take place at Global Life Park in Arlington.)
This game is all about the Dodgers. Kyle Wright stinks and the Dodgers offense finally woke up late last night. They are down 2-0, but they are also the best team in baseball and hit righties really hard against a pitcher who gets hit really hard.
This is all about figuring out the best way to bet this team. The -190 moneyline is out the window. That is way too expensive.
The -1.5 runline is at -125 which is a decent price, but it's kind of hard to trust this Dodgers bullpen right now.
The best way to bet looks to be the five inning line -0.5 at -135. Kyle Wright is a big part of why we like the Dodgers to save the series here and we want to be betting on his portion of the game the most. Julio Urias can hopefully get us through the first couple times of the order relatively unscathed.
Dodgers -0.5 First 5 Innings (-135)
I'm tired of treading water on these tips, going 1-1, so I am going to throw in another bet here that I made using the Props Builder at Bovada.
This is going to be a first inning only bet that there will be a run scored. That's it. Doesn't matter who, just one of these teams will score. I think it will be the Dodgers, but it doesn't matter. Just score!
Will there be a run scored in the 1st inning? Bet Yes -120
Houston Astros vs. Tampa Bay Rays Betting Tips:
Rays: Tyler Glasnow 4.08 ERA/3.66 FIP
Astros: Zack Greinke 4.03 ERA/2.80 FIP
(Game will take place at Petco Park in San Diego.)
Before the series I don't think I would've bet on a sweep, but here we are and we're betting on a sweep. The Astros have cooled down considerably since their series against the Athletics and the Rays have had great pitching throughout. That should only continue here.
Zack Greinke has just not had a great playoffs and it seems clear he's been bothered by his arm injury. The Astros don't really have a better choice here and that might ultimately end up costing them. Greinke is outstanding, a true legend of the game, but I think he gets hit here.
Glasnow has some huge strikeout stuff, but he's been hit in the playoffs. The Astros don't strike out a ton, but they don't walk a ton either. He should be able to pitch to his defense and the leash is likely to be short on him here. I think the Rays will do most of the job offensively and then the bullpen will take it from there.
Best Sportsbook To Bet MLB:
Register an Account.
All betting odds and props will now be viewable under the event listing.
You can deposit to BetOnline via over 20 different options such as credit card.