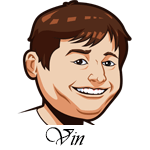 An awesome 6-2 record last night.
We got two pretty crazy wins with the Braves needing thirteen scoreless innings to close it out and the Yankees winning a 10-8 slugfest.
Other than that, the story of the day was the overs. We scored over wins on the White Sox/Athletics, Blue Jays/Rays, and the Cardinals/Padres. We also took the wins with the Dodgers -1.5.
The two losses were the over on the Twins/Astros game and the Cubs. Minnesota's bats just didn't show up for them and now they are heading home.
Only five games today as the Twins, Indians, and Blue Jays were all eliminated yesterday.
Best Odds for MLB:
All tips based on the starting pitchers listed. Tips should be considered void if any pitching changes are made unless otherwise noted. Occasionally the "follower" will be listed as we are betting on who will pitch the bulk of the innings.
Cincinnati Reds at Atlanta Braves Betting Tips:
Reds: Luis Castillo 3.21 ERA/2.65 FIP
Braves: Ian Anderson 1.95 ERA/2.54 FIP
Yesterday's game was not at all what we imagined, but it ended with a win so it's all good. 13 innings without a run scored does not surprise me with the Reds, but one run in 13 innings by the Braves did. Despite their tough match-up, I'd be shocked to see that repeat here.
The system likes this game as an over, but I am a bit hesitant to go for it after yesterday's performance. Especially with another early start that has to have had some effect on these teams. You can bet that one if you want to, the system sees this just below nine runs total with a total of 7.5.
I'll be sticking with the Braves here though. These pitchers are nearly identical on the season from a strikeout and walk perspective, but the Braves offense is just so much better. Don't expect a repeat of yesterday, expect a sweep.
Miami Marlins at Chicago Cubs Betting Tips:
Marlins: Sixto Sanchez 3.46 ERA/3.50 FIP
Cubs: Yu Darvish 2.01 ERA/2.23 FIP
The Cubs offense was trash yesterday and their bullpen let them down. Despite that, I'm expecting a big bounce back here.
Yu Darvish is one of the best pitchers in baseball while the Marlins offense is taking a hit as they should be without Starling Marte.
I'm going with the 5-inning runline here as it is the best value.
Bet Cubs -0.5 First 5 Innings (-131)
Chicago White Sox at Oakland Athletics Betting Tips:
White Sox: Dane Dunning 3.97 ERA/3.99 FIP
Athletics: Mike Fiers 4.58 ERA/4.94 FIP
The teams took forever to finalize these starters and then they ended up with exactly who we thought they would. Okay.
These teams are so close offensively, but I have to give the nod to the White Sox here. They are coming into the game in much better form and I have to give them the nod on pitching. Fiers is a slow tosser who relies on contact and the Sox feast on contact. He is very capable of giving up homeruns and the White Sox are capable of hitting them.
Dunning is a decent pitcher and we're also seeing that Dylan Cease should be available today if needed. The White Sox very nearly came back last night and I think they'll finish this series today.
St. Louis Cardinals at San Diego Padres Betting Tips:
Cardinals: Adam Wainwright 3.15 ERA/4.11 FIP
Padres: Zach Davies 2.73 ERA/3.88 FIP
The Cardinals won 7-4 yesterday, but that loss is 100% on Chris Paddack. He gave up eight hits and six runs in just 2.1 innings. St. Louis pounded him, but then the Padres bullpen did a pretty good job of keeping this thing from getting out of hand. While I don't really "get" Zach Davies and why he has done so well, I don't think he does that here.
The Padres offense is one of the best in baseball against righties and I think Wainwright's best days are behind him. San Diego should get the win here to force a third game.
Milwaukee Brewers at Los Angeles Dodgers Betting Tips:
Brewers: Brandon Woodruff 3.05 ERA/3.20 FIP
Dodgers: Clayton Kershaw 2.16 ERA/3.31 FIP
Woodruff had a great season, but like a lot of these NL Central pitchers he could be in for a rude awakening against the best offense he's faced all year. His last seven starts were against the Cardinals, Reds, Cubs, Indians, and Pirates – all below average offenses. The Dodgers are anything but average.
Kershaw is great, but the Brewers are actually a pretty solid team against lefties. He's also had his playoff issues in the past although I think those are overblown. He way underpitched his FIP this year and that is always a risk. Especially when the Brewers have nothing to lose.
While I think the Dodgers can win this one, the system sees this being very, very close. The starting pitching match-up and bullpens make this one all even. The system actually has the total at exactly 7.5 so we aren't going to do anything there. Let's play around a bit and take the runline underdog. The game is close enough that it could be decided by one run and the Brewers could absolutely steal a lower scoring game.
Best Sportsbook To Bet MLB:
Register an Account.
All betting odds and props will now be viewable under the event listing.
You can deposit to BetOnline via over 20 different options such as credit card.