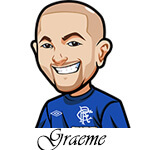 Last week at the Corales Championship could have been a tremendous week – alas it was not to be.
We went into the final day looking good. We had the 50/1 Xinjun Zhang and the 14/1 Mackenzie Hughes both battling at the top of the leaderboard.
Alas Zhang couldn't keep it up and that would have been the really nice one as it would have turned a profit. Alas while we got $156.25 in profit for Mackenzie it was a negative week.
Regardless I am still happy that both were in contention at that late stage even if Zhang couldn't keep going. That's what I am always looking for when it comes to the variance of golf – still being in with a shout on the final day.
Here's the betting slip for Mackenzie anyway: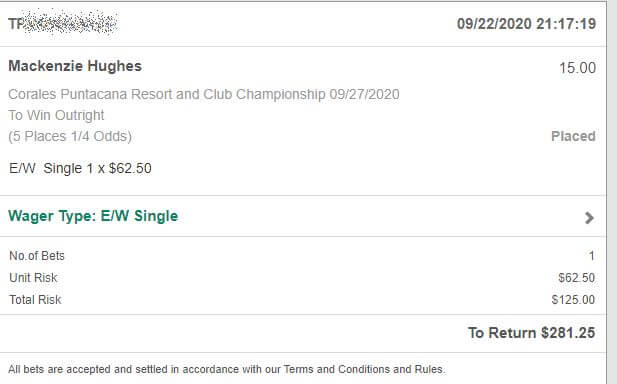 Could do with a nice big win soon. Let's hope it's this week.
Scottish Open 2020 Betting Tips:
This one takes place at the Renaissance Club. It took place here last year too so we have some course data to go in which is nice. With no Open next week however it means a real different style of field.
It's a funny one and something you should always pay attention to – GIR was a big factor in the top guys here last year. However when you look through last years tournament pretty much everyone had a high GIR so it shouldn't be as much of a factor. Just one of those little things to consider.
$125 on Romain Langasque 40/1 E/W. I'd love to bet more on him however it seems a lot of people are on him and his odds have dropped dramatically. He was 55/1 just a day ago. Played good here last year even when he wasn't in form and his putting suits these greens.
$125 on Andrew Johnston 55/1 E/W. I swear I saw him as high as the 90s at one point – I think that was on Betfair. Either way he pops out on the metrics for me. 4th place last year too. Granted that was after that insane final round. Been a little while since he played on the tour but he has the ability to come out of nowhere.
$125 on Thomas Pieters 22/1 E/W. Excellent player who looked good initially at the US Open. Struggled near the end and I think will want to come out flying here. Played well enough here last year.
$125 on George Coetzee 35/1 E/W. Coming off an exceptional time in Portugal. Little blip in form at the Irish Open but we saw a similar performance last year then he played very well following that at the Scottish Open. I'm good to back him here.
Long shots that popped up on the metrics for me but I couldn't justify are Burmester (100/1), Paisley (100/1), Bertasio (250/1) and Gagli (140/1) if you're looking for some big underdog bets.
Sanderson Farms Championship Betting Tips:
$125 on Sam Burns 22/1 E/W. I had to choose between Sam and MacKenzie last week and I was glad I made the right choice there. However he is still playing well and I think he can be in contention here. A good finish a couple of years ago and what I liked on Sunday was how strong he finished. I'm a big fan of backing those guys that finish strong to carry that momentum. He has a lot of familiarity with this course too.
$62.50 on Cameron Davis 40/1 E/W. Top of the metrics for me. I just wish he had performed better here or had some incoming form and this would be an easy $125 or $250 bet. That's how good he stands out stats wise. Honestly one I may regret not betting higher although when I was first looking at him he was like 55/1 and 60/1. That drop is enough.
$62.50 on Davis Riley: 125/1 E/W. Stands out in the metrics and he's from here and knows this course. Not great form, played here last year and was eh. Just enough to bet him.
$62.50 on Kristoffer Ventura: 80/1 E/W.. Not bad form, stands out for me enough to place a bet.
Two massive underdogs that just didn't make the cut were Kelly Kraft at 225/1 and Wesley Bryan also at 225/1.
LPGA / Korn Ferry Tour Golf Betting Tips:
Thanks to Fraser V., a long time follower, for a nice little donation last week.
Big props and for that I will cover the non-PGA & European Tours for a couple of weeks. Just advising small amounts on those as even though I bet them on a weekly basis my work isn't as indepth on them.
Shoprite LPGA Classic: $25 on Inbee Park to Win at 10/1.
Shoprite LPGA Classic: $20 E/W on Anna Nordqvist 25/1<
Shoprite LPGA Classic: $20 E/W on Mariah Stackhouse 125/1.
Savannah Golf Championship: $24 E/W on Dan McCarthy 28/1.