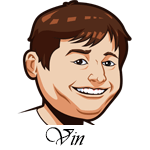 Follow @SBTSportBetting
A 1-1 record last night as both games went over.
The Yankees and Rays did exactly what we thought they'd do and blew away the 7-run total. The starters got us to the push, but it was actually close as to whether this one would actually win or not. Thankfully, a 5-run ninth inning by the Yankees put this over away.
We took the over in the Athletics/Astros game and this one went way over. Both starters gave up runs right away and the Astros just exploded. Carlos Correa was the start of the night going 3-for-5 with two home runs and four RBIs.
A big four games today.
Best Odds for MLB:
All tips based on the starting pitchers listed. Tips should be considered void if any pitching changes are made unless otherwise noted. Occasionally the "follower" will be listed as we are betting on who will pitch the bulk of the innings.
Miami Marlins vs. Atlanta Braves Betting Tips:
(Game will take place at Minute Maid Park in Houston.)
Marlins: Sandy Alcantara 3.00 ERA/3.72 FIP
Braves: Max Fried 2.25 ERA/3.10 FIP
This is one of those lines where the system likes the Braves, but not enough to lay the runs and not enough to make the -196 moneyline worth paying for.
Fried worries me a bit as he had a very low BABIP on the year and a high left on base percentage, but he was still very good. The Marlins did hit lefties very well on the year with a 111 wRC+.
Alcantara is coming off a great start against the Cubs, but this is the Braves we're talking about. They had a 126 wRC+ on the year and are one of the most powerful offenses going today.
I like the Braves to win here, but I'm not going with that as I think it's too pricey. I do think this one could see a lot of run scoring with Minute Maid Park being nice and warm for them. Make sure you get this at 8 runs as I think 8.5 is pushing it.
Bet Marlins/Braves Over 8 Runs (-115)
Houston Astros vs. Oakland Athletics Betting Tips:
(Game will take place at Dodger Stadium in Los Angeles.)
Astros: Framber Valdez 3.57 ERA/2.85
Athletics: Sean Manaea 4.50 ERA/3.71 FIP
Manaea turned in a pretty good season after a rough start. He had a string of four straight starts with one run allowed before running into the Dodgers and Coors Field in his last two starts. He's solid and he's fresh as the Athletics stayed away from him against the White Sox who crushed lefties. The Astros, on the season, were worse against lefties with just a 94 wRC+.
Valdez was probably the Astros best pitcher this season and he went deep in games with 9 of his 11 appearance going six innings or more and six starts of seven or more innings. He's got big strikeouts and a big groundball rate, two things we love in a pitcher. He's also a lefty and the Athletics had just as 93 wRC+ against lefties on the year.
It went wrong for us yesterday, but the under once again looks good here as the system sees Valdez keeping the scoring down and going deep.
However, I don't quite trust him to go that deep in a playoff game and I'm not sure we can trust Sean Manaea. I have this weird feeling that the Astros offense is back and they look like a good bet to win again here behind a strong start by Valdez.
New York Yankees vs. Tampa Bay Rays Betting Tips:
(Game will take place at Petco Park in San Diego.)
Yankees: Deivi Garcia 4.98 ERA/4.15 FIP
Rays: Tyler Glasnow 4.08 ERA/3.66 FIP
Neither pitcher looks potentially dominant. Glasnow definitely has the strikeout stuff, but the Yankees offense has a 122 wRC+ against righties and they are absolutely mashing right now. Garcia isn't someone that I see going deep either and the Yankees offense is vulnerable in the early parts. If the Rays got to Cole, they can get to Garcia.
This series looks like it might see a ton of scoring and the over looks like another solid bet here.
San Diego Padres vs. Los Angeles Dodgers Betting Tips:
(Game will take place at Globe Life Park in Arlington.)
Padres: Mike Clevinger 3.02 ERA/4.15 FIP
Dodgers: Walker Buehler 3.44 ERA/4.36 FIP
Mike Clevinger makes his return from injury to start here. He had a very good season and is probably closer to his ERA than FIP. The first couple starts of the year really skewed his stats, but he allowed two runs or less in four out of his last five starts (ignoring his one-inning final start). He faces a really tough match-up here as the Dodgers had a 126 wRC+ against righties on the season.
The Dodgers start Walker Buehler here who had a weird season. He's just not gone very deep at all and only pitched four innings in the first round. I thought that they'd stretch him out a bit, but that didn't happen and I'm not sure how much stock we can put in him. The Padres are a very dangerous offense with a 119 wRC+ on the season.
This game will take place in Arlington and the roof is open for this one. Throughout the year we saw some big run scoring games when the roof was open and the system thinks we can see that here as well.
Bet Dodgers/Padres Over 8.5 Runs
Best Sportsbook To Bet MLB:
Register an Account.
All betting odds and props will now be viewable under the event listing.
You can deposit to BetOnline via over 20 different options such as credit card.
Follow @SBTSportBetting