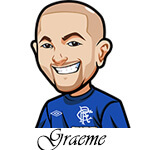 Follow @SBTSportBetting
In todays post I'll be putting all of my focus on the Waste Management Phoenix Open.
Just like the week prior, last week was another close one where we were very unlucky not to come away with a cash.
The biggest one was the 55/1 Ryan Palmer who was right up at the top at the end of round 3. This was in the Farmers Insurance. All he had to do was break even on the final day and we'd be in with the cash.
Unfortunately he had multiple bogeys and ran out of contention with a +5 day. Disappointing.
Let's look in at the Phoenix Open. I've had success here in the past with Matt Kuchar two years ago, and Matsuyama a couple of years in a row.
A lot of interesting ones and I could only pick out four golfers to back for this one.
The first one up is the 28/1 Gary Woodland to win & E/W. A 2u play on Woodland. Often you look back at a golfers previous result, see he missed the cut and decide "oh he's playing cold time to move on". However you always have to dive into that further. Some golfers for example are solid on the bounce back when they miss the cut. Others – the cut doesn't tell the full story.
That's the case for Woodland who while he didn't make the cut was playing good golf. He struggled in round 1 but came back strong in round 2 and was very close to making the cut. Surely he will be itching to get going this week. He's been playing very good lately and I think can perform well here.
The next is the 30/1 Bubba Watson to win & E/W. 2u play on Bubba too. Occasionally watching the golf, a golfer stands out to you as someone who is going to win a tournament in the next little bit and nothing is going to get in their way. That can be tricky as you try and find the best one to bet them. This one may be a bit too early but I like the way Bubba is playing and think he could pull it out here. He's also got solid course form and I think we have to bet him here.
The final two plays are 1u plays on Ryan Moore and Branden Grace to win & E/W.
There are some golfers where course form is pretty much stamped on their forehead and Moore is one of those guys. No matter how he is playing or what is going on in his life, there are a lot of courses he just performs on. This is one such course. Granted he has missed the cut here recently but he is looking good in golf, his current play matches the course well, and I think he can work some magic.
For Grace I'm a bit concerned he will be jet lagged however he has got some good golf going and performs well here as well.
Follow @SBTSportBetting