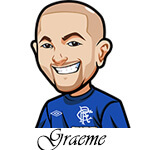 The Arnold Palmer Invitational ended up being quite the fun tournament. I surely wasn't the only one who was busy cheering my heart out for either Westwood or Spieth. Love seeing Spieth up there and so sad he had a bad round 4.
Speaking of bad Sundays – I was proud as all hell that I decided not to go with that Rory Top 5 pick last week. That was such a close one and then he had a disastrous Sunday as seems to be standard.
We doubled up on Matthew Fitzpatrick instead and alas he came 10th. 1 more stroke and he would have came in on the E/W cash. So brutal.
Molinari was a disaster but Kokrak at least got us something back although with dead heat rules it wasn't a lot: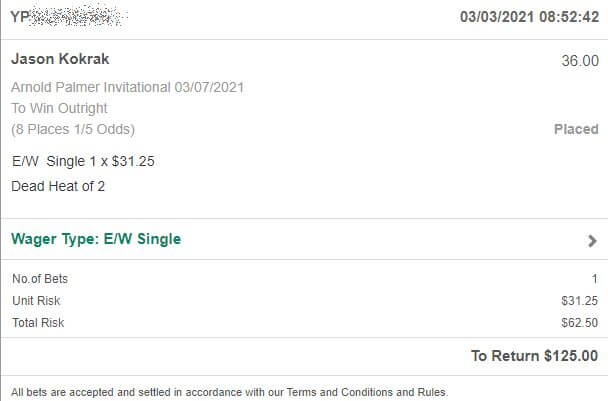 That Fitzpatrick one though – man that was close.
Players Championship this week let's see what we got. I'm writing this a bit late again so will be shorter write-ups and due to time constraints won't lost the best odds at each sportsbook. I'll just list Bet365 odds as I am betting there with the Top 8 at E/W which is a factor.
The Players Championship 2021 Betting Tips:
Bad memories from last year where I had Matsuyama at 28/1 and he was leading in the first round when COVID hit. For the record last year I bet Dechambeau, Simpson, Berger, Kuchar, Matsuyama and Fleetwood.
$125 on Tommy Fleetwood To Win & E/W:
Tommy boy looked a lot better at the Arnold Palmer. Looks like he is getting into a groove. He won here a few years ago and since the course modifications has a 5th and 8th place.
This is a tough course but he has shown he has what it takes and if he is truly in the groove then should be up at the top near the end of the tournament.
at 45/1 at Bet365:
---
$62.50 on Jordan Spieth To Win & E/W:
Honestly I don't think he will do it. The metrics I run for this course I don't think he has what it takes. But considering his form right now, his overall ability, and the betting odds? Would be silly not to bet on him.
30/1 at at Bet365:
---
$62.50 on Adam Scott To Win & E/W:
Just wish his form was better coming in and I'd back him for more. He's won on this type of putting surface before and plays very well at this tournament.
66/1 at Bet365:
---
$62.50 on Webb Simpson To Win & E/W:
I'd normally do a Top X bet on Webb but he HAS won here before just a couple of years before and pops up all over the metrics for me.
at 22/1 at Bet365:
Sorry tips were so late. Won't cover any other tournaments this week due to said time constraints.