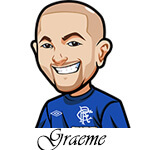 What an incredible week last week was.
I feel bad for all the Molinari backers. He was looking like he had it right up until the ball landed right in the water. However hopefully most of you were able to bypass that and enjoy Tiger Woods winning the freaking Masters!
any have sent me that Wisconsin $85k winner story BTW – I don't believe that for a second ha. But congrats to William Hill for going viral that way. Smart.
Betting wise, I ended up just betting $100 on Tiger to win, as opposed to win & E/W. The odds were bad but I was betting it simply so if what happened happened – I could enjoy it that much more. And it was very very sweet watching it come in. Was nice to cover me and my buddys bar bill anyway: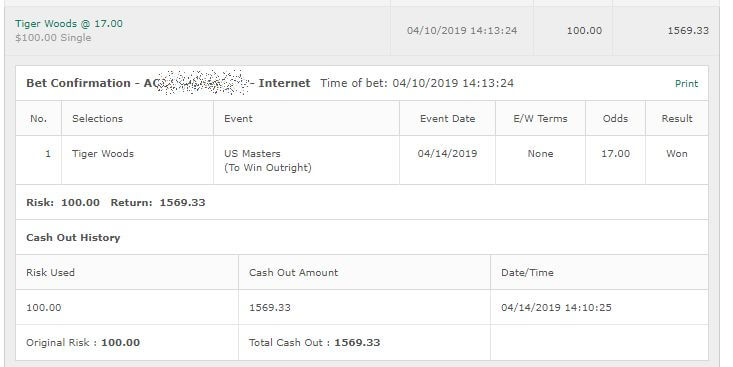 I actually cashed out I think it was on the 17th. Decided after a tough week just to take what I could get.
Betting wise, everything else was a bust unfortunately. Some extremely disappointing performances by some of the guys such as Rory, Casey and Rose. Also a crushing last day as Patrick Cantlay and Matt Kuchar were both looking good for the Top 8 cash.
Especially Cantlay. He ended up tied for 9th after two bogeys in a row at the end. He was a 66/1 freaking pick. That was crushing and I believe that's the 4th time – maybe the 5th – this year where we've been a few holes away from a good sized cashout and saw it fizzle away.
BIt of a frustrating year betting wise but it is what it is. Could do with a wee winner again. Let's get to the tips this week:
RBC Heritage 2019 Betting Tips:
Stacked tournament this week. I'm very curious about Jordan Spieth. We're starting to see some improvements but I am not ready to back yet. Interesting he has came back here after missing the last three tournaments. His driving issues won't matter as much here this week – but just can't pull the trigger. If you're betting him, you're betting him purely on name value (like Tiger last week). Not making that play again.
Reminds me of last week to a degree where there are so many possibilities. Can I just say how much I love golf betting? It's a lot of work but I have so much bloody fun doing it all. Coming up with a shortlist, debating who to drop from it over a coffee etc. Such a blast.
Broke my heart when doing the shortlist and I eliminated Lucas Glover. Kisner was another close one. So was Cantlay. Honestly Cantlay was very, very close to making the cut and if he was slightly better odds – 25/1 as opposed to 20/1 – I'd place a bet. One of those where I may regret not picking him but I'm concerned with the way he collapsed under the pressure last week. But look at how many picks I have this week ha – like I said it's a tourmament with a lot of contender.s
Jim Furyk: 33/1. Really liking the form of Furyk lately. He hasn't performed well here the last two years but he IS a multiple time winner with a few additional top 5 spots. If you're going to back Furyk at any time during the tour, this is one of the tournaments to do so. 1/2u to win & E/W.
Si Woo Kim: 40/1. On a hot streak, two excellent performances here. Interesting as metric wise based on what you consider for this course he isn't really amongst the data. But he can perform here and it's a nice price. 1/4u to win & E/W.
Matt Kuchar: 22/1: Very strong performer here although he didn't make it the last two years into the top 10. Some sensational form at the moment and well worth a 1u to win & E/W bet.
Webb Simpson: 25/1. Coming in off a great performance, has two top 5 results here. He can be a contender for sure. 1/4u to win & E/W.
Graeme McDowell: 55/1. Previous winner here and while he hasn't really performed well here since then (although hes made the cut most of the time), he's in some excellent form with that win recently, suits up here metric wise and is worth a play. 1/8u to win & E/W.
Luke Donald: 55/1. I mean his form here is insane. Loved what I saw from him at Valspar. 1/4u to win & E/W.
Ryan Armour: 225/1. Long shot bet of the week. Popped up in the metrics enough that at this price it's worth a bet. 1/8u to win & E/W. Nothing more than a numbers game.
Jason Kokrak: 45/1. I tried to erase him off the shortlist but I just couldn't do it. 1/8u to win & E/W.
Whew. Just one of those weeks where it was too hard to narrow it down. Hopefully we get a couple of cashes this week.