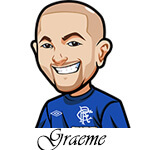 Follow @SBTSportBetting
Last weekend was a fun one where I spent Thursday, Friday and Saturday cursing myself for not betting more on Sergia Garcia – than spent Sunday thanking myself for not doing so!
Garcia led the whole way until the final day when Lee Westwood went insane with a whopping -8 to take the lead by three strokes. Unlucky for Garcia that but major props to Westwood for a great performance.
It was another close but no cigar for us – hopefully we can get a win or a cash this week.
Let's get on with it:
RSM Classic 2018 Betting Tips:
Very tricky one actually as i feel of all the metrics that one should consider for this course, there is no-one who really falls into multiple categories. Very few who fall into the most basic of course/current form either but here's what we've got.
J.J. Spaun: 22/1 Coming in strong with some solid form his last few tournaments. A 2nd place last year and with the weakened field, 22/1 seems like a steal. 1/4u to win & E/W.
C.T. Pan: 22/1: Everything I said for Spaun? Same applies here. Well except 2nd place. It was 13th last year and 6th the year prior. 1/4u to win & E/W.
Jim Furyk: 45/1: Coming in on form at a course he has a great history at. 1/4u to win & E/W.
Bud Cauley: 55/1 Some solid performances lately and an 8th place finish here last year. He's been putting in some solid enough performances now he is at full health and may do well here. 1/8u to win & E/W.
Kramer Hickok; A rare pick based on the metrics for this course. Think he might do well. 1/8u to win & E/W
Henley was very close to a pick here but just can't pull the trigger. But if you're wanting additional action are someone for fantasy, he's not the worst choice.
DP World Tour Championship 2018 Betting Tips:
This is a tough one as there are so many possibilities and they're all generally below 20/1 odds.
Jon Rahm: 10/1: Not having the best season but he won here for a reason – metric wise he blows this course away. It honestly wouldn't surprise me to see him doing it again. Unfortunately his odds have dropped drastically. He was 14/1 when the lines opened but has now dropped to just 10/1 Do I think there is still value there? Very, very slight value. 1/8u to win. FYI at 14/1 it would have been a 1/2u play to win & E/W.
Dean Burmester: 90/1: Another one that's dropped and for good reason – was 100/1 to open. His driving power could be a big factor here and I'm good for 1/4u to win & E/W.
Francesco Molinario: 20/1: Worth a small play as winning would be so important to him here. Great way to end it with a win and he's got to have that drive. Recent performances not great but give us a decent wee price. 1/4u to win & E/W.
Ian Poulter: 50/1: Has the ability on this course and has had some decent form as of late. 1/8u to win & E/W.
Follow @SBTSportBetting