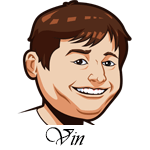 Follow @SBTSportBetting
A 2-0 record last night. That's two of those in a row.
You never really feel comfortable betting the under at Coors Field and, oh boy was that true last night. A 6-3 Diamondbacks lead in the ninth inning and the Rockies have runners at first and third with nobody out. One run would be okay, two runs disastrous. The result? No runs! Wow, nice job pitching out of that jam. Rockies against righties, even relievers.
The Giants continued to pay for us yesterday as they dropped the game to the Braves, 4-1. This offense just has nothing right now and it's hard to find a reason not to go against them as often as possible. Especially when the number is low like it was yesterday.
Some early games today so you get some early tips.
[text-blocks id="137″ slug="email"]
Cleveland Indians vs. Tampa Bay Rays Betting Tips:
I was going to ignore this one as I like both pitchers, but then I pulled up Carlos Carrasco's last four starts. They go like this 5 earned runs, 0 earned runs, 5 earned runs and 1 earned run. That seems like a pattern and one of those five run games was against the red hot Tampa Bay Rays that he is facing today. That seems crazy to think this line would be so low when that just happened. Small sample size and all that, but nine hits and two homeruns is a problem. Or was a problem.
Blake Snell goes for the Rays and while I normally love backing him (and would back him if I was picking a side here), I am thinking he'll get hit today. Why? That Indians offense is insane with Josh Donaldson added to the mix. Donaldson, Francisco Lindor and Jose Ramirez is a scary top three hitters and that's before you include Edwin Encarnacion and the rest. I don't think he's going to get killed, but he will give up some runs.
Honestly, 6.5 runs is too low. It's too low. The Rays are one of the hottest offenses going right now and they can do this themselves.
Bet Rays/Indians Over 6.5 Runs
Atlanta Braves vs. San Francisco Giants Betting Tips:
I wasn't going to, but you know what? I'm going to. Derek Holland is a lefty and he's not a very dominant lefty. The Braves kill lefties. This isn't hard to figure out.
Anibal Sanchez is a guy I don't really trust, but with the state of the Giants offense right now? Let's do it. This line is too low for how the Giants have been hitting for the past month and I have to take it once again.
Bet Braves -130
Toronto Blue Jays vs. Boston Red Sox Betting Tips:
Since making his return from the disabled list, Aaron Sanchez has made three starts and allowed a combined 14 runs. That is not good. He's had some bad luck, but his fastball has been hittable and tonight he faces the best hitting team against righthanded pitchers, on the road. I don't like that for him.
David Price is having a decent season. Far from his dominant days, but he's been pitching well. However, he has struggled a bit more at home with more walks. He has a much lower BABIP at home too which isn't a good sign. I think that he'll end up giving up a few tonight.
I am expecting the Red Sox to do most of the heavy lifting (like last night when they won 7-2) and think this one will go over the total.
Bet Jays/Red Sox Over 9 Runs
Follow @SBTSportBetting