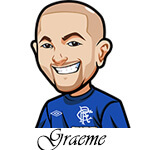 It was a great week to start NFL as I managed to go 10-4 with my betting tips.
And not to be that guy as it goes both ways – but all 4 losses were tainted in some manner.
Lions failed to cover: easily catchable TD pass dropped right at the end.
Titans failed to cover: One word. Gostkowski.
Kittle not getting a TD: Player prop meh.
Cowbots not covering: Bad call on Gallup.
Like I said that doesn't mean anything as that sort of thing clearly goes the other way. There's lots of variance all over the course of a game that can affect things. However it's still nice to look at things like that.
Today we will look at the Thursday Night Football game taking place.
It's featuring the 0-1 Bengals vs the 0-1 Browns. Oh boy. Might as well get this one out of the way early eh?
My favourite thing about football being back is the memes. My favourite from this week: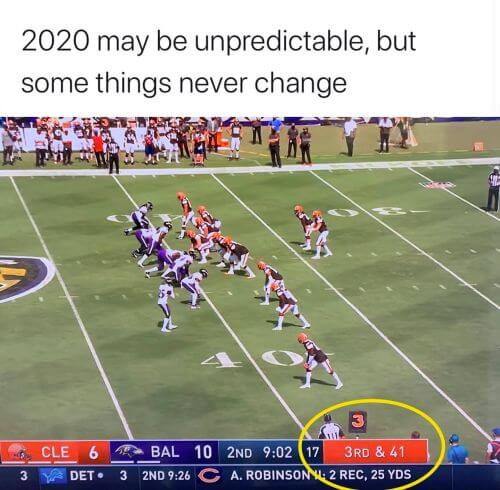 Let's get into the tips. 3 days without NFL I am already having withdrawals.
Bengals vs Browns Betting Tips:
The Cleveland Browns are 6 point favourites here with the over/under set at 43.5.
The Browns got absolutely thumped by the Ravens. 38-6. Baker Mayfield threw 1 TD to Njoku and that was it. He couldn't get over 200 yardsas the Ravens ran wild. After the 1st quarter they were scoreless.
Bengals was a bit of a closer one losing 16-13 due to a big 4th quarter by the Chargers. I must admit the commentary made me sick – just the way they frothed all over Joe Burrow. It's similar to watching the US Open and the way they talk about Tiger.
So what did we learn from Week 1 and the players? Over the years I've learned to look at it from a fantasy perspective initially then everything falls into place. I didn't hate Burrow and his performance. He's also got the ability to run. That may come into play against the Browns.
The Ravens defense is great but Mayfield didn't look good regardless. QB wise I'd give the nod to Burrow for this game.
I liked Mixon. He looked good and I think he will be a good weapon here against the Browns as well. However the combo of Chubb and Hunt should be able to do damage against the Bengals if Mayfield utilizes them enough.
AJ Green should have a better game this week. If him and Burrow had better chemistry right now they would would very dangerous. Was disappointed in Boyd though. I'd like to see them use John Ross.
Then we have the Browns WRs. OBJ at least saw the targets. It didn't work out though. That was all down to Mayfield and how bad he was with the passing. Landry also is questionable.
Overall I just see more positives in the Bengals here. If you are taking the Browns to win this game, you're basically betting on Baker Mayfield to have a competent game. Honestly I kind of hope he does – I feel bad for the guy and I'd love to see OBJ rock it again.
But I feel that is the more riskier play. I'll take Bengals +6 for 2u and it won't shock me if they win outright. I'd bet more but Week 2 Thursday games are always weird as there is usually fatigue and this one could have extra fatigue. Either way – happy with the points.
Where To Bet Bengals vs Browns for Best Deposit Bonus
Register an Account.
All betting odds and props will now be viewable under the event listing.
You can deposit to BetOnline via over 20 different options such as credit card.