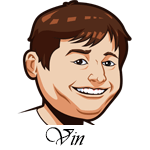 Follow @SBTSportBetting
A 1-2 record last night.
We got the win early as the Phillies crushed the Jays in game one of the double header. There was a pitching change here for the Jays as they went with Robbie Ray, but I was able to catch it in time and update the post. With Ray on the mound, I was all over it and so were the Phillies hitters. Ray allowed five runs in 4.1 innings while Zach Eflin had a great 7IP scoreless start.
I wasn't expecting much out of Jonathan Stiever of the White Sox, but I also wasn't expecting four home runs allowed either. This one was out of reach before it even got going and the White Sox offense was quiet with Tyler Mahle having a nice start with 8 strikeouts.
We also took the under on the five inning line for the Astros/Diamondbacks game, but a three-run home run by Kole Calhoun ended up putting that one out of reach as it was tied 3-3 after five. This was a tough loss as Springer reached on an error and then scored on a wild pitch in the first, then he reached on error again in the third leading to a run. Two runs over the push, two unearned runs. Baseball.
A lot of good looking games tonight. Let's get lady luck back on our side.
Best Odds for MLB:
All tips based on the starting pitchers listed. Tips should be considered void if any pitching changes are made unless otherwise noted.
Toronto Blue Jays at Philadelphia Phillies Betting Tips:
Blue Jays: Hyun-Jin Ryu 3.00 ERA/3.25 FIP
Phillies: Vincent Velasquez 6.46 ERA/4.29 FIP
How can you not go with the Blue Jays over right now? They've allowed seven or more runs in their past five games and 58 runs overall over that span. Ryu is definitely their best starter, but he's a lefty and the Phillies have had tremendous success against lefties on the season. If the Phillies can get to the bullpen, they can continue to feast as that thing is washed right now.
I think the Jays will have some success on the offensive side as well. Velasquez is a homer happy pitcher with high walks. A nice recipe for giving up runs. The over should be higher here, jump on it.
Bet Phillies/Blue Jays Over 8 Runs
Washington Nationals at Miami Marlins Betting Tips:
Nationals: Patrick Corbin 4.10 ERA/3.88 FIP
Marlins: Pablo Lopez 4.02 ERA/3.17 FIP
This is a classic splits match-up. The Marlins are much better against lefties while the Nationals are much worst against righties. Simple.
It's also a classic home/road splits game. Corbin is much worse on the road and Lopez has been much better at home. Simple.
I don't trust either bullpen so I am going with the 5 Inning line. Simple.
Bet Marlins -120 First 5 Innings
Chicago White Sox at Cincinnati Reds Betting Tips:
White Sox: Dallas Keuchel 2.19 ERA/3.16 FIP
Reds: Trevor Bauer 1.71 ERA/2.83 FIP
I would honestly have the lines switched on this one. Bauer has been very good, but he has a high flyball rate (not good to have against a team with the 2nd highest HR/FB rate in the league), a low BABIP and a high left on base percentage. I am not discounting him in any way, but there is luck involved and a dangerous offense has a way of taking that luck away.
Keuchel is a groundball machine and I think he'll have some success against this offense. The Reds have just an 83 wRC+ against lefties on the season so they are no big threat here. The White Sox bullpen is also much more reliable than the Reds so I'm expecting some success here.
Kansas City Royals at Milwaukee Brewers Betting Tips:
Royals: Kris Bubic 4.50 ERA/4.57 FIP
Brewers: Corbin Burnes 1.98 ERA/1.93 FIP
Burnes has been absolutely killing it and he's the top rated pitcher on the board. He's only allowed one run over his past four starts and he faces a Royals offense that is below average (89 wRC+) against righties. With the combo of Devin Williams and Josh Hader behind him, I can see the Royals scoring very little today.
The Brewers offense has been disappointing all season, but they are pretty good against lefties with a 111 wRC+. Bubic is nothing special, lay the runs.
Texas Rangers at Los Angeles Angels Betting Tips:
Rangers: Lance Lynn 2.40 ERA/3.84 FIP
Angels: Andrew Heaney 4.02 ERA/2.93 FIP
Two pitchers with flip-flopped ERA/FIP that I think are going to show their true selves here today.
The Rangers offense is terrible and has just a 64 wRC+ against lefties on the year. If Heaney is going to get his ERA/FIP straightened out, this is the offense to do it against.
Lynn is having a great season, but he's been out pitching his FIP all year. He's due for some offense to help him get straightened out. The Angels offense has been hot of late and they have a 116 wRC+ against righties on the year.
A very slight edge to the Angels bullpen here, but this tip is mostly about the system seeing very little upside in the Rangers offense.
Best Sportsbook To Bet MLB:
Register an Account.
All betting odds and props will now be viewable under the event listing.
You can deposit to BetOnline via over 20 different options such as credit card.
Follow @SBTSportBetting