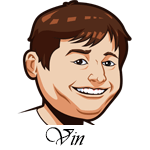 A 2-1 record last night.
We got the win with the Braves/Marlins over. For awhile, it looked like this one might not come in. The Braves had a 4-1 lead and the offenses looked like they weren't going to do it. Then the Braves woke up. A five-run seventh and a two-run eighth sent this one way over the 9.5 total. The Marlins had ten hits here, but only ended up with one run just in case you were wondering why I didn't also go with the Braves. They had their opportunities.
The Giants got us the win in the five-inning line thanks to a first inning home run by Austin Slater. The Giants would add another run in the fifth to finish the frames 2-0. Drew Smyly was solid, pitching five innings and allowing no runs.
The loss was the Astros over the Mariners in the 5-inning line as it was tied 1-1 after five frames. The worst part about this was that the Astros then proceeded to score five runs in the sixth inning. Do it earlier next time, dummies.
A nice little bounce back. Let's keep it going down to the wire. Five or six games left in the regular season!
Best Odds for MLB:
All tips based on the starting pitchers listed. Tips should be considered void if any pitching changes are made unless otherwise noted.
Chicago White Sox at Cleveland Indians Betting Tips:
White Sox: Lucas Giolito 3.53 ERA/3.18 FIP
Indians: Shane Bieber 1.74 ERA/2.13 FIP
Bieber has been dominant throughout the season, but he's allowed three runs in each of his past two starts and faces one of the best offenses in baseball this year.
The same can be said about Giolito. He threw his no-hitter on August 25th and then allowed two or more runs in his next four starts, including three runs each in his last three. The Indians offense has been hot lately and I could see that trend continuing here.
This total is set off of past information. Living in the now, it seems like an easy over.
Bet White Sox/Indians Over 7 Runs
New York Yankees at Toronto Blue Jays Betting Tips:
Yankees: Masahiro Tanaka 3.27 ERA/4.24 FIP
Blue Jays: Robbie Ray 7.17 ERA/6.72 FIP
The Yankees absolutely owned the Jays last week when they scored thirty runs in a three game series. Not being presumptuous, but they could absolutely do that again with Robbie Ray on the mound today.
Tanaka is solid, but this one is all about the Yankees and Ray. The Yankees offense is getting back to full strength with a lot of big boppers back in the lineup. Ray has a 2.45 HR/9 rate on the year. We know how this story goes.
Kind of a pricey line, but if your sportsbook offers alternative 5-inning lines then you can also bet the Yankees -1 at -120. This is definitely a time where that is worth it.
Bet Yankees -0.5 Five Inning Line (-150)
Colorado Rockies at San Francisco Giants Betting Tips:
Rockies: Ryan Castellani 5.59 ERA/7.65 FIP
Giants: Logan Webb 5.73 ERA/4.12 FIP
The Rockies are out of the playoffs and not much to play for here. Their offense absolutely collapsed and I just can't even be bothered to write more about why I don't like them. Logan Webb should do fine here.
The Giants have been good to us all year and the system loves their match-up with Castellani.
Bet Giants -0.5 Five Inning Line (-135)
Best Sportsbook To Bet MLB:
Register an Account.
All betting odds and props will now be viewable under the event listing.
You can deposit to BetOnline via over 20 different options such as credit card.