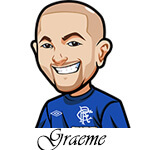 Welcome to Week 3 of the NFL season. It's flying by!
Tonight Week 3 kicks off with the Miami Dolphins at Jacksonville Jaguars game. The Dolphins are 0-2 to start the NFL season and the Jaguars are 1-1.
It may not sound like the most appealing game however remember last week we had the Bengals versus the Browns and that turned into a hell of a game. I remember planning to half watch that while I worked and I ended up absolutely glued to it.
Let's hope for another fun game.
For those keeping track, my record on spreads is now 17-9. Monday Night Football was a loss. I took Under 48.5pts but neither team could stop scoring and put up 9.5 points over the total.
It was nice to see the Raiders bounce back from an early deficit to get the win.
---
Listen to our WWE Clash of Champions Betting Tips Podcast. Nice quick listen only 11 minutes long and 4 big betting tips to take advantage of.
Powered by RedCircle
---
Let's get into Thursdays game now:
Dolphins at Jaguars Betting Tips:
The Miami Dolphins lost to the New England Patriots 21-11 to open the season. They had a much better outing in the 2nd game however losing to the Bills 31-28. That's a very impressive one honestly as the Bills have a damn good passing offense and also a good defense. Impressive performance from the Dolphins.
The Jags have been a high scoring team. They beat the Colts 27-20 in Week 1 before losing to the Titans 33-30 in Week 2. Minshew despite 2 interceptions did great. I really dig that dude.
I liked the way Fitzpatrick bounced back and that's tough news for Tua. I'm sure he was ready to go in for Week 3 but it was a good game against hte Bills and they are doing a good job against the run. I've got to think while the Jags are rebuilding their D that he can get the points here.
I enjoy Minshew a lot though. He's playing very well. Dolphins were meant to have a better defense this year in the secondary but that hasn't appeared to be the case so far.
So I think we see a big passing game here and a lot of passing.
Chark may have a tough game against Howard however with Jones out that's better plus Howard and Jones haven't lived up to their potential. Chark is game time and that could be a concern.
End of the day we have two QBs who seem like they have a lot to prove. Minshew is out there proving Jags don't need that #1 draft pick while Fitzmagic – you know the deal there.
I'm always a wee bit wary with Thursday Night games but by all accounts it should be a high scoring one.
1u on Over 49pts
Best Props for NFL: