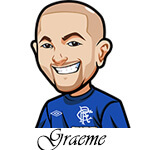 Follow @SBTSportBetting
Well it was a rather anti-climactic end to the EPL season.
For me the real sweat was that Arsenal bet we made. Backed them to win, felt extremely confident as they went up 3-0 after 33 minutes then they almost bloody Arsenal'd it. Luckily they held on for the win.
Was hoping for excitement when West Ham managed to score to tie it up against Villa. Even though we had the draw bet on that I was secretly hoping for Villa to go down simply because they'd be fun to go in Football Manager next year.
So a bit of a break. Some other football will be going on of course and Serie A still has a bit to go and I will cover the whole host of Wednesday games here. I may be on a bit of a relaxed schedule with only 2-3 posts a week for the next couple of weeks while I focus on my NHL Bets over at BetNHL.ca.
Lot of Serie A Games let's jump right in:
Serie A Bets: July 29th, 2020 Betting Tips:
Verona vs SPAL: Verona are heavy favourites here. Do they really deserve to be? SPAL are utter gash however they have at least got a draw against Torino and then scored a goal in their last three matches. Verona are missing quite a few players such as Kumbulla. Honestly it wouldn't surprise me if SPAL pull off an upset here. However Verona have the motivation to end their last home game on a winning note. I feel obligated to bet 0.5u on SPAL or draw as I thought about it and I'd be kicking myself if I didn't. 2.50 odds.
Lazio vs Brescia: Lazio blew Verona away and take on Brescia as they look to improve their league position at the top. Brescia of course are relegated however have played a bit better lately. When Lazio played Brescia previously it was a tight 2-1 victory. It'd be easy to say based on Lazio's last result that they put on a demolition job but I'm not ready to back that. Brescia do have the worst xGA in this era and Lazio have one a bad one too but Both Teams to Score is only 1.70 blah. No bet here.
Sampdoria vs AC Milan: Sampdoria have had two tough losses to Genoa and Juventus recently after some solid results. Was nice to see AC decide to keep Pioli. Milan look to keep the gap between them and Napoli although are already guaranteed Europa League football. I like Milan to win but 1.6 is too short and they don't stop conceding goals. BTTS isn't a play either. No bet.
Sassuolo vs Genoa: Genoa strung together a couple of losses before losing to Inter. Sassuolo were doing great however AC Milan and Napoli proved too much for them. Interesting game really. Sassuolo will look to end the season on a high note and finish 8th as "best of the rest". Genoa would love a win to cement their Serie A status. Bookis expect goals here. Small play on the draw. 0.5u at 3.60 odds on the draw.
Udinese vs Lecce: Udinese are a decent price to beat Lecce. Lecce need the win to keep their relegation hopes alive however Udinese have been impressive. The way Lecce lost to Bologna was crushing. Udinese are missing a few players but I still think they can finish strong. 1u on Udinese at 2.20 odds.
Cagliari vs Juventus: Juventus have been a bit sloppy but Cagliari have been brutal. Honestly now Juventus have won the Serie A Title I expect them to play with a lot of freedom etc and probably get the goals. Not confident enough to bet on them though as their away form has been a bit weak.
Fiorentina vs Bologna: Decent price on Fiorentina who haven't been too shabby. Bologna though have had tough opposition. No bet.
Torino vs Roma: Roma are playing with confidence. Crazy to think it was only a few weeks ago they were struggling hard. However I think Torino have been solid at home and may get something. 0.5u on the draw at 4.33 odds.
(Odds on this page are correct as of 2020/07/28 9:37:28 AM EST but are subject to change)
Follow @SBTSportBetting