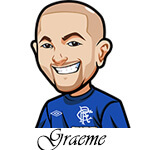 Follow @SBTSportBetting
Apologies for the lateness for this weekends SPL Tip stoday.
I've mentioned it before but I like to wait until Modern Fitba has updated their database for the week and sent out their e-mail so I can see all the advanced analytics. They usually don't do that until Friday around 11am-12pm EST.
However I had a tattoo appointment today and had to be out of the house around 12pm so wasn't able to do it then. Then when I came back from that around 5pm well I just wanted to chill and have a couple of beers ha.
However here I am ready to go and ready to dive into data. What a great way to spend a Friday night.
Let's get to it:
Ross County vs Aberdeen Betting Tips:
Aberdeen have screwed me over a couple of times lately when I feel like teams can score against them who aren't the Old Firm – but then they don't.
So it was one of those things where in my head I had pretty much decided I was going to do something involving a clean sheet going into this match.
They're at away but that should hopefully not impact things. They shut out Hamilton, Motherwell and Livingston here. Ross County however are not bad at scoring goals and not too many teams have shut them out this season.
County should surprise and I am not super confident so we'll go with what I feel is the "safest" bet of all.
(Odds on this page are correct as of 2019/11/08 7:33:54 PM EST but are subject to change)
Kilmarnock vs Hamilton Betting Tips:
This COULD end up being a cracker of a match for Killie fans. Kilmarnock are 5th right now iwth Hamilton 7 points behind them. Neither team is really lighting it up at the moment offensively while Hamitlon concede a lot.
The way things are going, Kilmarnock are soooo close to producing the goals and that could happen here. Hamilton are only hanging in there due to penalties and the way Killie score goals and create chances it's perfect for Kilmarnock here.
(Odds on this page are correct as of 2019/11/08 7:33:54 PM EST but are subject to change)
St Johnstone vs Hibs Betting Tips:
St Johnstone are one of those teams where you have to wonder how they are bottom of the league when you look at the analytics. I've mentioned before here about the chances they create and how Stevie May in particular should start putting them in the back of the net.
They have however managed to build off a 3 game homestead with 2 wins and will be looking at making it 3. Hibs are draw specialists lately with 5 draws in 5 games including draws at home to Celtic and away to Aberdeen.
It's a close matchup and the draw is the likely result but I am going to do a small bet on St. Johnstone to keep their run going.
(Odds on this page are correct as of 2019/11/08 7:33:54 PM EST but are subject to change)
Hearts vs St Mirren Betting Tips:
Statistically this is a game that could go either way. St Mirren are one of those teams who probably should start getting the goals in more and this could be a good spot for them. But I love backing a new manager and I think Craig Levein is an absolutely terrible manager so I'm fine backing MacPhee here.
(Odds on this page are correct as of 2019/11/08 7:33:54 PM EST but are subject to change)

Follow @SBTSportBetting