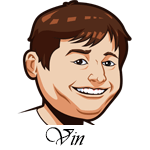 Follow @SBTSportBetting
The vaunted Pittsburgh defense that they have long been known for is back this season and they draw a great match-up at home against the Tennessee Titans tonight.
The impressive thing about this year's Steelers has been their defense. Heading into the season many people were expecting big things on the offensive end with LeVeon Bell and Antonio Brown, but thus far this year they are only averaging 20.8 points per game. The defense has really picked up the slack though as they are holding opponents to 16.4 points per game and just 284.2 total yards per game. They have really excelled against the pass, allowing a paltry 181.8 in the air per game.
Tennessee is expected to have a healthy Marcus Mariota for this one which makes them a threat in this one. They are more of a threat on the ground as they only throw for a little over 200 yards per game. That matches up well with this Pittsburgh defense as they are much better against the pass than run.
Notable Upcoming Bets:
NFL Betting Tips:
The thing that worries me in this one is the Titans defense. They allow just as much yards as the offense gains and have ever so slightly allowed more points this season. They aren't a shutdown team and they can be exploited.
Throw in that this is the first time Pittsburgh has been at home in three games and I am really liking the Steelers in this one. The points haven't been there, but the yards have and that will correct itself at some point this season. That could be tonight. The Titans defense is susceptible to the pass and Antonio Brown exists.
Between the Pittsburgh defense, the home field advantage and Antonio Brown, we're going with the Steelers -7 in this one.
College Football Betting Tips:
It's not every day you see a team playing who is on as bad a run as Ball State. They have allowed 56 points or more in four straight games and tonight could be five. In their last six the closest game has been 28 points. That's bad.
So, Buffalo -20 is a great deal when you consider the way they have played in their last six. Buffalo isn't the best team out there, but they are better than Ball State and that's all that matters tonight.
It's hard to believe we're doing this, but we're going to lay 20 in another game tonight as well. South Florida -22 is a really great team and they have really dominated their opponents this year. Their average point differential is over 20 points per game and this game should blow that away.
Tulsa has allowed a shocking 547 yards per game on defense while South Florida is averaging over 500 yards per game on offense. South Florida has 275+ yards per game on the run while Tulsa is giving up 270+ per game to the run. This is the perfect match-up. That is throwing gas on a dumpster fire and it should lead to a profit for us tonight.
Follow @SBTSportBetting