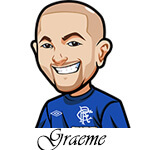 Follow @SBTSportBetting
Got round to updating the stats yesterday. Unfortunately October was a very poor month. 29-49 for -21.50 units. A shame that it wiped out that excellent September where we went profitable for 16.41u.
However that's why it is a good reason to have a spreadsheet to track your bets. So you can't just sit there and go "Wow I suck" – you can actually look back for reasoning.
Euro 2020 qualifiers were one reason for that. We had the international break and lost 5.51u.
The Champions League was another. I've admitted here that from a betting perspective, I don't enjoy betting the Champions League. Feel it is too tricky. The first weekday of the month saw us lose a whopping 7.32u. I toned down the bet sizes for the next Champions League window but that was still negative 4.88u.
So I took myself out of my element, and lost 17.71u from it. While I can't guarantee it, I'm fairly confident that if I had focused on domestic leagues during those windows I would have been able to turn a profit.
But it is what it is. I DO enjoy tipping the Champions League and International qualifiers simply because I'm going to be watching them, but it's a good reminder to tone things down from the unit sizing.
So I will remember that going forward. I should note that I have been betting sports for over 20 years now and the majority of them professionally (as in I do it for a living), yet I still always consider it learning opportunities.
Always track your bets. If I wasn't doing that, it'd be so easy for me to say "oh it was just a bad run of variance" or something and then keep making these same mistakes. However I am always looking back and educating myself. I've lost money twice recently on backing against Aberdeen with the SPL Tips against non Old Firm teams, even though I've openly said their stats against non Old Firm teams are much better.
Sometimes it's not variance – sometimes it's just you making mistakes. And what you have to do is change things around. And there's no shame in losing days, weeks or months as long as you look to adjust rather than just writing it off.
So with that said, let's cover the UEFA Champions League tips for Wednesday but really tone down the bet sizing unless I see an opportunity.
Champions League Tips: Nov 6, 2019
So like I said we'll tone down the unit sizing for these. 0.25u unless specified otherwise. Depending on how this week goes I may even abandon Champions League tips altogether. I also won't be forcing myself to make bets unless I feel confident enough about it. Sometimes it's just about being more selective.
Munich vs Olympiakos: Munich are a perfect 3-0 as they host Olympiakos. They got thumped against Frankfurt on the weekend though and have been very inconsistent in the Bundesliga. They sacked Niko Kovac. Always love a managerial change. 0.25u on Munich -2.5 at 2.05 odds meaning they must win by 3. I think they have a point to prove after that domestic game.
Lokomotiv vs Juventus: Juve are unbeaten and got that 2-1 win over Lokomotiv. They can qualify with a win here. Lokomotiv were close against Juve last time. I have a gut feeling Juve take this one convincingly. It's crap odds but I'll do 0.25u on Juve to win at 1.60. Tempted to bet them to win to nil but I'll go with the lesser odds.
Atalanta vs Man City: Man City are killing it and Atalanta are a disaster in Europe so far. Can't see much changing but City DO have that game against Liverpool on the weekend. I want to bet City with the handicap but with that crucial game coming up I'll go with no bet on this one.
Leverkusen vs Atletico Madrid: Leverkusen on a brutal run in the Champions League and it's do or die for them. Strugglign in the league too. I kind of want to back the draw at 3.25 odds but I just don't have the confidence in them.
Zagreb vs Shakhtar: Both teams are quite evenly matched. I lean Zagreb but not enough to put a bet on them. That Shakhtar away win against Atalanta was impressive.
PSG vs Brugge: I like PSG to continue their ways. 0.25u on PSG to win to Nil at 1.90 odds.
Real Madrid vs Galatasaray: Rough start for Real Madrid to the Champions League and they scraped that 1-0 win over Galatasaray. They're still not convincing me. No bet here as it's a tricky one.
Red Star vs Spurs: Spurs thrashed Red Star 5-0 last time out. They have only had the one away game though where they drew 2-2 with Olympiakos. That makes this game crucial. Red Star however is a tough place to visit. Spurs are also seriously struggling away domestically. 0.5u on BTTS at 1.66.
Follow @SBTSportBetting